Inventus Power has a long track record of delivering safe, innovative, and reliable power solutions to the U.S. Department of Defense (DoD) and its global allies. We design and produce battery packs, chargers, and accessories that withstand the harshest, most physically demanding environments for military needs. Check out our interview with Inventus Power's John Heaton, Director of Business Development, Military-Direct Government, to learn more about the partnership Inventus Power has with the US Military and the mission-critical battery and power solutions we provide for the warfighter.

As a newer member of the Inventus Power team, can you tell us a little about yourself?
John: I just recently celebrated my one-year anniversary with Inventus Power. Before joining the company, I served in the U.S. Army for over 20 years and gained an additional 10 years of government contracting experience. I am also a Battalion Commander in the U.S. Army Reserves. One of the many reasons I joined the Inventus Power team was to solve critical problems our warfighters face - a specific area that is essential and unanimous to our military: Power.
Can you tell us about Inventus Power's experience supporting the U.S. Military?
John: Inventus Power has been delivering battery systems for the US Army for over 20 years. We are most notable for our contributions to warfighter wearable power technology being the original producer of the Conformal Wearable Battery (CWB); a safe, flexible, and highly-efficient centralized power source for all warfighter-worn battery-operated equipment or carried equipment ensemble.
In addition to working directly with the Program Executive Office (PEO) Solider, our Government Program Support (GPS) staff members speak with service members to help identify pain points and possible improvements for various products. Our stellar track record, ability to provide solutions that exceed the power demands of today's soliders, and great program-office relationship with the U.S. Army have helped us springboard into finding new solutions based on the Army's needs. We also work with other military branches, such as the Navy and Marine Corps, to address their specific power requirements.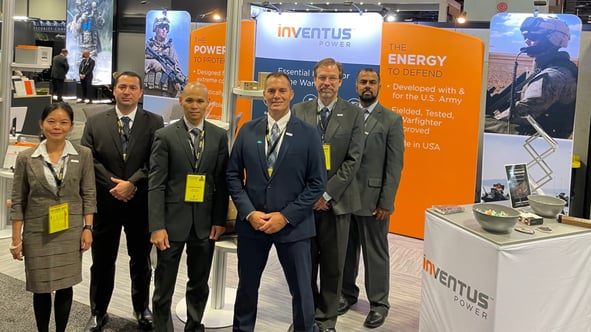 What are some of the ways Inventus Power stays involved in the U.S. military market to understand the warfighter's power needs?
John: Inventus Power is honored to have veterans managing professional relationships with the U.S. military. Our staff of former warfighters have a firsthand understanding of the battery-powered applications used in the field and have experience with military systems and platforms. While visiting military bases, we directly communicate with servicemen and servicewomen that use our equipment, offering training and gathering input on how our products perform. This is a great way to get feedback from the end-user and assess possible improvements for our products.
Another way we stay involved is by frequently exhibiting at military-related tradeshows like AUSA and Modern Day Marine to meet with our Military OEM customers and Military-Direct partners. By participating in relevant industry events and working with the Department of Defense (DoD), we can closely monitor open market announcements and current trends and have an ear to the ground on military battery-powered needs.
Can you provide examples of military devices that can benefit from Li-ion battery technology?
John: When talking with military personnel or original equipment manufacturers (OEMs), we hear the same concerns: Power demand is increasing; there is a greater need for lighter and longer-lasting batteries. The warfighter continues to be equipped with more and more high-tech equipment that requires batteries or other sources of power. Some examples of warfighter-worn devices include radios, night vision goggles, tablets, ruggedized smartphones, etc.
Counter-improvised explosive devices (IEDs) or jammers is another example of a battery-powered military device that is critical in a military environment. Our adversaries can remotely detonate a drone or mine, and to combat this threat, our soldiers carry jammers to scramble the signal. However, these jammers are heavy, weighing over 70 pounds, and half of that is the weight of the lead-acid battery. With lithium-ion (Li-ion) battery technology, they can get a high-powered battery pack at a fraction of the weight.
From a medical-military need, highly mobile power solutions are needed for medical personnel of small-scale military teams. These expeditionary operating rooms take up a small footprint and special forces must be able to conduct high-level medical procedures in a field environment. Providing lightweight, low footprint, mobile Li-ion battery solutions is key for these teams to work efficiently.
What are some of the products or solutions Inventus Power offers for the warfighter?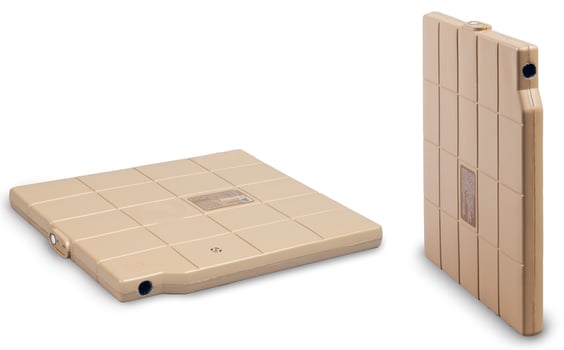 John: Inventus Power is most notable for our contributions to warfighter wearable power technology. We are the inventor, manufacturer, and sole provider of the CWB to the US. Army. Our CWB has been field-tested, proven effective, and a preferred power source for military and ground soldiers across the globe. As the only fielded battery that meets 100% of the U.S. Army requirements, our CWB exceeds the MIL-PRF-32383/4A specification in areas crucial to the warfighter's mission and safety. Its antipropagation technologies make it one of the most advanced battery systems. To date, over 150,000 CWBs have been delivered through NETT Warrior and Small Unit Power programs.
Last year, Inventus Power received a nine-year, $1.25 billion contract to supply CWBs to the U.S. Army. This contract results from our outstanding power products, extensive capabilities, and comprehensive plan to deliver the most robust, soldier-worn power systems the military has ever seen.
As an extension to our offering of military-standard batteries, Inventus Power also offers a BB-2590 rechargeable battery which is well-known in the military market for powering applications such as radios, advanced tactical devices, and robotics. At 298Whr, the Inventus Power BB-2590 is one of the highest capacity versions on the market.
Inventus Power also offers custom design and manufacturing capabilities for military & defense OEMs. We have over 60 years of proven experience solving challenges in smart, and innovative ways across a wide range of applications including, hand-held two-way radios and manpack radios, military PDAs and computers, military vehicle applications, unmanned aerial vehicles (UAVs), unmanned ground vehicles (UGVs), and forward-mission devices.
What makes Inventus Power the ideal battery partner for the military?
John: Inventus Power has extensive experience delivering advanced battery and power solutions to the DoD and military & defense OEMs. We provide not only exceptional products but also an extraordinary level of support from all teams ranging from engineering to production to corporate leadership. Our team is genuinely passionate about the safety and quality of the products we develop for the military. Fundamentally, we're committed to providing the best power solutions for the modern warfighter so they can continue to serve and protect now and in the future.
Inventus Power has over 60 years of battery engineering expertise. Our worldwide operations and regional support, patented technology, and cross-market experience fully equip us with the resources necessary to be your electric partner. Want to learn more about our power solutions for the warfighter? Contact us today.