Inventus Power is preparing to exhibit at AUSA! Taking place over three days, the Annual Meeting is designed to deliver the Army's message by highlighting the capabilities of organizations and presenting a wide range of industry products and services. AUSA provides a voice for the Army, supports the Soldier, and honors those who have served in order to advance the security of the nation.
Inventus Power has a long track record of delivering safe, innovative, and reliable power solutions to the U.S. Department of Defense (DoD) and its global allies. We design and produce battery packs, chargers, and accessories that withstand the harshest, most physically demanding environments for military needs. Visit our booth #3633 to learn about our military-grade lithium-ion (Li-ion) batteries and power solutions designed to meet the power needs of the modern warfighter.

Learn more about AUSA and how to connect with us:
October 10-12, 2022
Washington, DC
Inventus Power Booth: 3633
---
The Next Generation of Conformal Wearable Batteries (CWB)

Last year, Inventus Power received a nine-year, $1.25 billion contract to supply CWBs to the U.S. Army. This contract results from our outstanding power products, extensive capabilities, and comprehensive plan to deliver the most robust, soldier-worn power systems the military has ever seen. We practice a process of continuous improvement for all our products and our CWB continues to evolve to meet the central power source requirements for warfighters. We are excited to provide a sneak peek of the next generation CWB 3.6.2. at the show. This revolutionary, flexible product can be worn directly on the soldier, reducing their weight burden. Visit our booth, #3633, to check out the next generation CWB!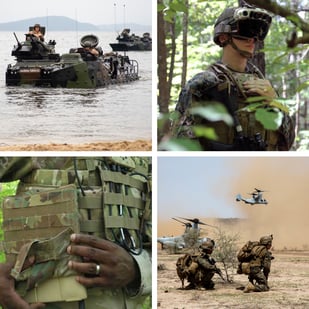 Custom Military Power Solutions
In addition to standard products for military and defense OEMs, Inventus Power also provides custom design and manufacturing capabilities. We have over six decades of innovative experience
solving battery challenges in smart, and groundbreaking ways that improve outcomes for the warfighter. Some of the power solutions created specifically for military and defense OEMs include unmanned aerial vehicles (UAVs), military PDAs, hand-held two-way radios, and unmanned ground vehicles (UGVs). Read about these solutions and more mission-critical power systems here.
Connect with Us
If you would like to attend the upcoming annual meeting or are interested in becoming a member of AUSA, please register here. The Inventus Power Military Team is passionate about the safety and quality of the products we manufacture for those who serve and protect. If you would like to connect with our team, contact militarypower@inventuspower.com.