Introducing a new medical device to the market comes with many specific considerations to meet the safety standards not required of other devices.
Before entering the development phase of a new medical device, whether it's going to be used in a critical care hospital setting, doctor's office, at-home environment, or other patient settings, it's important to understand the application requirements in order to elevate patient safety and make the device long-lasting and highly reliable.
In the following, we'll cover:
Key differences of power supplies for medical versus commercial applications
Essential characteristics of medical-grade power supplies
Key benefits of working with Inventus Power to design and build a medical-grade power supply

Power supplies: Medical vs. commercial
When choosing a power supply for your medical device, it's critical to understand and anticipate how the power supply for medical-grade devices differs from that of commercial devices.
Rigorous safety standards
For medical-grade devices, the safety of the patient and the caregiver take top priority. To qualify as a medical-grade device, power supplies should meet International Electrotechnical Commission (IEC) 60601 standards, versus the IEC 62368 standard applied to commercial devices. IEC 60601 has strict safety standards designed to protect patients and caregivers, many not featured in the IEC 62368.
Longer design cycle
Meeting the various safety requirements for medical-grade devices requires additional time to design and refine the power supply compared to development schedules for commercial devices. To maintain accurate timelines that set the right expectations for product launch, be sure to factor adequate design time into the development cycle.
Additional insulation
Medical devices, including their power supplies, require extra insulation to protect the patients and medical caregivers from electric shock in case they come in contact with the human body.
Greater life expectancy for the device
Commercial power supplies cost less to develop because their lifespan is typically no more than a few years and they don't need to follow strict design guidelines imposed by IEC60601 safety and EMC requirements. However, when hospitals, clinics, and patients procure medical-grade devices, a long lifecycle is expected for both the device and its power supply. Not only is a long lifecycle expected but the medical power supplies are assumed to operate flawlessly 24 hours a day, 7 days a week, and 365 days a year. Designing and manufacturing a medical-grade device requires a deep commitment to quality to ensure a reliable device that lasts for years. That includes building components that keep service requirements to the bare minimum.
Key characteristics of medical-grade
power supplies
Another consideration is knowing the essential power supply characteristics for medical-grade devices. Here are a few to know.
Low leakage
current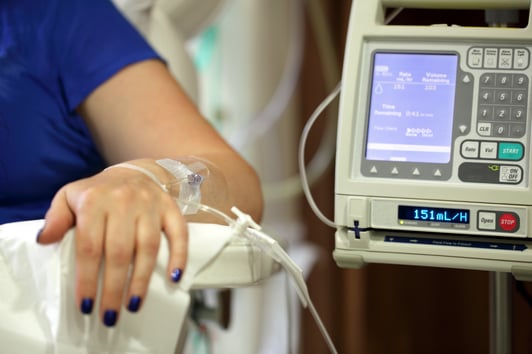 Leakage current is an unintended current that passes through the human body when one touches an electric device and may cause electric shock and even death. Having a medical-grade device with a low leakage current is especially crucial for patients in a weakened state. Therefore, the maximum permissible leakage current in medical power supplies could be as low as one-tenth of commercial counterparts based on safety standard requirements. The maximum permissible leakage current of a medical device (including its power supply) is broken up by applied part type. "Applied part" refers to the section of the device that makes physical contact with the patient during an operation. These are the three classes of applied parts depending on how they contact the patient's body:
Type B: D

evices with electronics that do not interact directly with the patient, such as hospital beds or x-ray machines,

and

have the least stringent standards.

Type CF: Cardiac floating devices that make direct contact with the heart, such as a dialysis machine, have the most stringent standards.

Type BF: Body floating devices

that

have conductive contact with the patients

like blood pressure monitors fall in between type B and type CF parts.



Means of Protection (MOP)
All medical power supplies have to contain one or more means of protection (MOP) to keep the risk of electric shock to a minimum. The electrical safety of medical equipment relies on these MOPs. Of all the medical device safety standards, MOP may be the most crucial.
One of the changes implemented in the IEC 60601-1 third edition was to distinguish between means of patient protection (MOPP) and means of operator protection (MOOP). MOPs include air clearances, creepage distances, protective impedance, and insulation as part of the power supply requirements for medical applications. IEC standards for MOPs are as follows: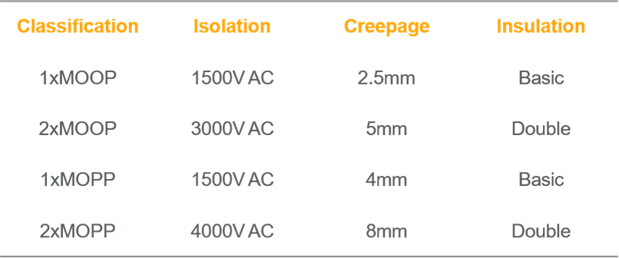 It is up to the manufacturer to decide whether the equipment only requires MOP for the operator (MOOP), or whether the more stringent patient levels are required (MOPP). If the manufacturer decides MOOP is enough, it will have to back up its reasoning with a risk assessment as per ISO 14971, which examines how likely it is that a patient will come into contact with the equipment.
Some designers of medical equipment will always specify a power supply with two MOPPs, even if strictly speaking it doesn't need them, despite the extra cost incurred. The theory behind this is that by going for the highest level of protection, it significantly simplifies the qualification process for the product. The ISO 14971 risk assessment doesn't need to be done and there is no reason to design and implement measures to make sure the equipment doesn't touch a patient.
Reliability
Medical power supplies are generally expected to have better reliability because they deal with patients' safety and life. One other requirement has to do with the manufacturing facility that makes the power supply. Certification from the International Organization for Standardization (ISO) ensures each product that comes off the line works reliably and as expected.
Size efficiency
Portability is essential in medical devices, as they often have to travel with the patients (such as when they're being transferred to surgery or for diagnostics). Minimizing the size and weight to a minimum is essential to good patient care. Newer Gallium Nitride (GaN) based power supply designs are enabling significant increases in efficiency while decreasing the overall size and weight of the device system.
EMI filtering and electromagnetic compatibility
Any electronic device can be a source of electromagnetic energy. With the growing usage of wired and wireless electronic devices, it is essential for medical devices to have electromagnetic immunity and not be adversely affected by electromagnetic energy as outlined in the IEC 60601 4th edition. Furthermore, the medical devices (including their power supply) should limit the amount of electromagnetic energy that it puts out which is covered by the same standard. Within the standard, electromagnetic immunity is categorized according to three different use case environments: professional health care facility, home health care, and special environments. In the latter case, examples could include high-power MRI equipment used for diagnostic purposes.
EMI filtering in medical power supplies reduces the amount of electromagnetic energy that it puts out and it could also protect the power supply from electromagnetic interference. (However, it's critical to factor in that power supplies with EMI filters could have capacitors that allow some leakage current, which can add complexity to the final design.)
What makes Inventus
Power

different?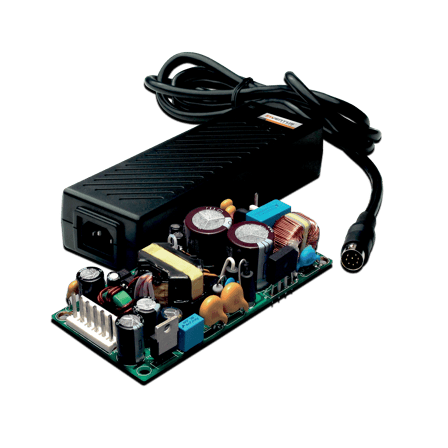 Inventus Power has over 60 years of experience designing high-quality power solutions across a broad range of market segments, including medical. We design, manufacture, and test all of our power supplies in-house, ensuring they meet and exceed the most stringent standards.
Higher reliability
Inventus Power conducts extensive in-house life testing to demonstrate Mean Time Between Failure (MTBF) on all power systems. More than 200,000-hour life testing (20 units at 10,000 hours) are tested for high temp, high stress, 100% burn-in, and more.
Quality tested
Our engineers use the latest technologies while adhering to conservative design standards to produce power systems that are efficient, compact, and made to exceed the highest quality standards.
In-house agency & compliance capabilities:
In-House Certified Labs by TUV for power suppl

ies

UL/CSA/TUV/EN/IEC 60601-1: Medical Device Safety (2nd & 3rd Edition)

UL/CSA/TUV/EN/IEC 60950-1: Information Technology Equipment

CE Mark

Additional Agencies (as needed)

Outside labs used for:
FCC Part 15 Class A/B – Code of Federal Regulations

IEC/EN/UL 60601-1

C-tick certification

VCCI certification

ICES-003 certification

CE/EMC certification

SAA/CCC/PSE/GS/KC/GOST-R/ TISI/SIRIM/BSMI/PSB/etc.

RoHS , REACH, EU Directive Compliance

ErP/DOE/NRCanMEPS Energy Efficiency Compliance
Efficient systems
We work from a broad range of existing design platforms to deliver a standard, modified standard, or customized power supply solution that keeps development time to a minimum. All of our new power supply designs will comply with Level VI efficiency ratings and feature integrated GaN-based power conversion.
Robust warranties
We stand behind our quality and reliability claims and offer a warranty on all our standard power supply solutions.