As the global leader in advanced battery systems, we are proud to have some of the brightest engineers from around the world designing and developing our products. The Inventus Power Engineer Exchange Program (EEP) allows our engineers to visit our other technical centers across the globe and work alongside their colleagues to create process efficiencies and foster a "One Team" mindset. Check out our interview with Eli Goldin, Mechanical Engineer I and Iris Su, Project Engineer to learn all about this great program!
What inspired you to visit our China facilities?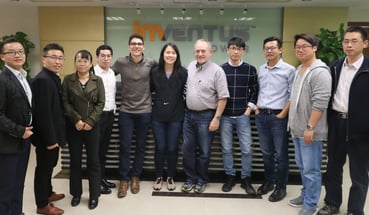 Eli: Our Technical Center Asia in Guangzhou, China contributes significantly to the success of our company, supporting numerous new product launches in a multitude of industries. The team is comprised of very experienced engineers, some with battery design experience greater than 15 years, and have developed robust engineering processes to support complex engineering projects. I thought this would be an unparalleled opportunity not only further develop my personal engineering skills but to help our U.S. and China engineers seamlessly work together to better serve our customers.
Iris: I have always enjoyed learning about different cultures outside the U.S., especially East Asian cultures given my family background (my parents are Chinese American immigrants and my brother works in Hong Kong). Since a major part of my job function is to drive the technical development of new projects designed by our team in China, I wanted to understand the processes and capabilities of our Guangzhou Technical Center. By meeting everyone face-to-face and working with them in real-time, I felt this would allow me to understand how our two teams can collaborate and work more cohesively to ultimately benefit our customers.
What similarities do the China and U.S. engineering teams share?
Eli: Both China and U.S. engineering teams are developing designs through our global PowerUP Process for New Product Introduction (NPI). This Phase-Gate process has proved successful in enabling both engineering teams to support nearly 100 new product launches per year.
Iris: Both of our teams have the same focus; to design safe, cost-effective, high-performance battery packs. No matter which center you work with, they all share the desire to design a great product that customers love. Because our company works with such a broad range of markets, we all get excited to work on new projects that stretch our experiences and enjoy seeing all of the end systems that get powered by our designs.
What are some of the challenges engineers face today in a global business?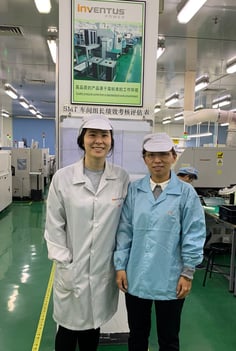 Eli: Inventus Power is uniquely positioned given that we can support customers around the world with our global manufacturing and engineering locations. However, one challenge is understanding the structural differences between governments. Especially with lithium-ion battery packs where a safe design is critical, regulatory differences around the world can impact design. The Engineer Exchange Program (EEP) helped me understand and better navigate these challenges so that we can continue to thrive as a global business.
Iris: When working with a global engineering team, factors such as language, resources, and time zones need to be considered. Additionally, different work cultures and ideologies come into play. In order to work together more effectively, global engineers need to understand and account for their counterparts' perspectives so that expectations are understood.
How can we foster a "One Team" culture?
Eli: Trust in your coworkers. During my time in China, I worked hard with my colleagues, but we also spent a lot of time getting to know each other. Our camaraderie grew and I hope we can continue to focus on building these relationships.
Iris: We must be committed to the "One Team" idea – that we are better together. We should address our differences and learn from one another. This will lead to a more harmonized way of engaging with one another, and ultimately, help us leverage the strategic advantage that comes with having multi-country technical centers.
When you weren't hard at work, what fun activities did you share with your coworkers?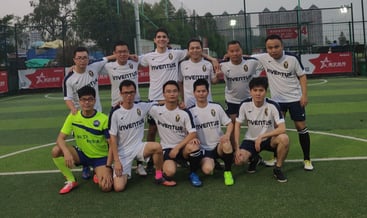 Eli: This was my first trip to China, and I was so fortunate to experience the country's rich culture and phenomenal food with people who knew all the good spots. We also did some sightseeing in Thailand, Vietnam, Cambodia, and Hong Kong. I even played soccer with the TC engineers every week!
Iris: Something Eli and I noticed right off the bat was that the work culture in China is very familial. After working together in the office, our coworkers frequently spend time together after work. They were very quick to invite us to activities big and small. We ate many meals together and attended sporting events. I even played tennis with my engineering mentor, Pecky.
Do you feel you can benefit personally and professionally from our Engineer Exchange Program?
Eli: Absolutely. Learning from our engineering team in Guangzhou and visiting our largest manufacturing site in Qingxi, China has given me the confidence to design better products. Through experiencing different cultures and countries, I now have friends across the world.
Iris: Definitely. Working in a different country for an extended amount of time is an eye-opening experience that changes your outlook on the world and makes you a more well-rounded person. Continuing the Engineer Exchange Program is a great way to foster the "One Team" initiative and I hope it can grow beyond the engineering teams.
Eli and Iris, thank you for taking the time to share your Engineer Exchange Program experience with us!