Recently, Inventus Power was a Gold Sponsor at The Battery Show & EV Tech Digital Days, the largest battery tech event in the country that went virtual this year. Check out our interview with Tom Nguyen, VP of Business Development, for event highlights and insight into the battery industry.
Why was The Battery Show an important event for Inventus Power?
Tom: The Battery Show is North America's largest advanced battery technology event and Inventus Power has been an exhibitor for years. With 2020 marking our 60th anniversary, we were eager to attend this industry event to showcase our new products and capabilities, specifically in the motive space, and discuss the latest trends in the battery industry.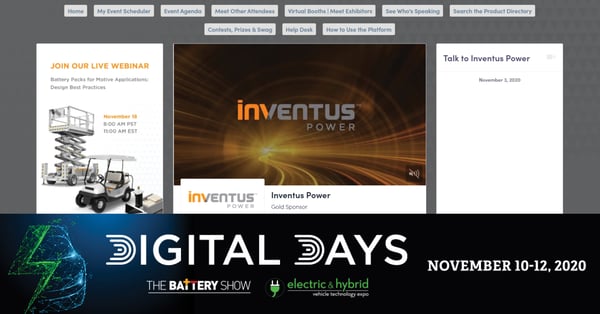 Normally this is an in-person event, but this year it went virtual. How was this experience?
Tom: This virtual event was surely a new experience for us. While we prefer an in-person setting, we used the Digital Days online platform to connect with industry leaders and further promote our new PROformance Series Li-ion Batteries. Our new products are designed, engineered, and tested for various motive applications, such as professional cleaning, light electric vehicles, robotics, aerial work platforms, e-mobility and more. We were excited to introduce these product solutions to customers who are looking for the best approach to integrating a Li-ion solution into their motive application.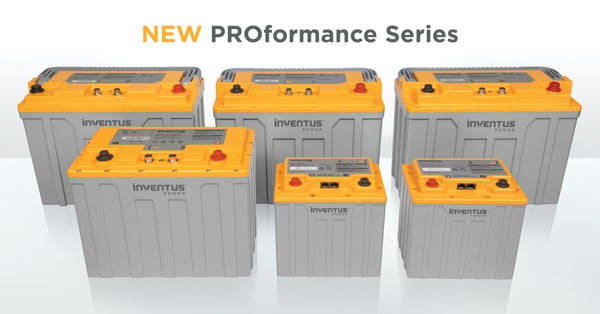 What technology trends are taking place within the battery industry?
Tom: The electrification trend is growing tenfold in new emerging markets (i.e., commercial vehicles, off-highway vehicles, AGV/AMR, scrubbers). Today, we are converting a new generation of customers who are looking to replace their Lead Acid battery systems with lithium-ion (Li-ion) or electrifying their products completely over from internal combustion engines (ICE).
When considering the right battery solution, many of today's motive OEMs are seeking products that offer long cycle life, fast charging to maximize productivity and a maintenance-free solution. In order to meet these expectations and adhere to industry standards and regulations, there are several factors to consider in the battery pack design process. We actually discussed these considerations in our recent webinar on, "Battery Packs for Motive Applications: Design Best Practices."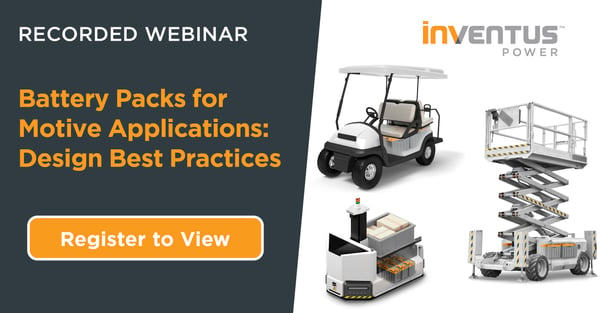 Why should industry OEMs partner with Inventus Power?
Tom: Our 60 years of industry experience, global engineering expertise, and proven reliability are some of our strong suits. We are also vertically integrated, with in-house capabilities in design, manufacturing, and testing. This helps us provide better quality control while also saving time in the development and certification process. For example, our internal UL agency test lab allows us to test and certify our custom and standard Li-ion battery packs in-house to help reduce customer development costs.
Another reason to partner with us is due to our diverse portfolio and years of experience within commercial, medical, and military markets. We have been able to leverage our expertise and technology across markets to help engineer innovation into new products and markets.
Inventus Power also utilizes a system approach for implementing battery, chargers, and motor controllers which differentiates us from others in the industry. Whether we are designing a custom power solution or a standard product, we focus on the total system and application environment to ensure our products meet all expectations for quality, safety, reliability, and performance.