Boss Magazine provides an inside look at Inventus Power and how we keep multiple industries "Powered Up"!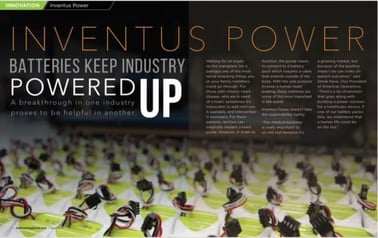 Inventus Power has a long-standing history of designing and manufacturing battery packs, chargers, and power supplies for global OEMs across a wide range of portable, motive, and stationary applications. Depending on the volume or complexity needed for the power solution, Inventus Power will operate on different levels to best support its customers' needs.
For example, when working on consumer electronics applications, Inventus Power will run medium- and high-speed automation lines to meet demand. When working on a medical application, products will go through a more rigorous design, testing, and validation process to meet customer requirements for quality, safety, and reliability.