While the daily work environment at Inventus Power has surely changed since the COVID-19 outbreak, the passion and dedication of our employees have not wavered. Our global team has been rising to the challenge of this pandemic by stepping up their efforts to ensure our customers receive the service and support they need. As an essential supplier to medical device OEMs, by doing our jobs safely & effectively, we are all playing a part in the fight against COVID.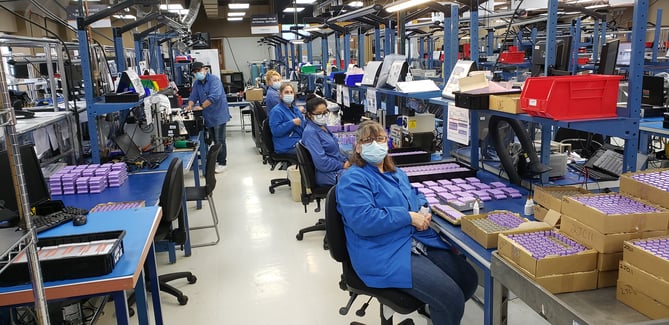 Inventus Power employees have been extremely flexible and dedicated during these challenging times. "Our production employees are very grateful to be working during this pandemic, and they are proud to be helping in the fight against the coronavirus. I want to make sure I am onsite, supporting our employees in any way I can," says Lisa Atkinson, Human Resources Manager (Woodridge, IL USA).
With the increasing demand for medical devices such as ventilators, powered air purifying respirators (PAPRs), and other mission critical equipment, Inventus Power employees are working hard to support our customers and ultimately, the patients and healthcare workers who will be using the equipment. Here are some of the ways employees are taking action:
Essential onsite production employees are building medical battery packs to meet critical customer needs and keeping up with increased demand.
Engineers are working from their home offices on battery designs & testing for new and existing medical and safety products.
Our IT Team is keeping employees connected with a global network infrastructure that can handle increased bandwidth and ensuring communication tools and resources are efficient and accessible.
Our HR staff is ensuring our employees stay safe, informed, and productive.
Our Supply Chain Team is ensuring continuity of supply for product components, packaging, etc. as well as protective equipment and cleaning supplies for our employees and facilities.
Account Managers are maintaining constant communication with our customers regarding their critical programs.
Business Development Managers are discussing new projects with medical device OEMs to determine how Inventus Power can support increased global demand for life-saving, life-sustaining equipment.
Our CEO continues to provide COVID-19 business updates to keep employees and customers informed of the initiatives put in place to protect our staff while maintaining essential operations.
These are just a few examples of the strides our employees are making to combat this global health crisis. We are proud of our staff around the world for the extra effort they are putting in each day. Together, we are all helping to make a difference.
"In difficult times there are opportunities. Small contributions do count, and by doing the right things we can come out of this together." Imad Idelah | Principal Applications Engineer