Inventus Power, a global leader in the design and manufacture of battery packs, chargers and power supplies for a broad range of markets and applications, announced today it is adding a high-capacity BB-2590 rechargeable battery as an extension to its offering of military-standard batteries.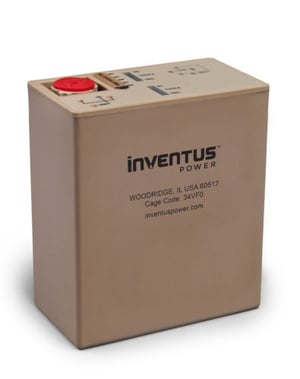 The BB-2590 is designed for missions where rugged, reliable energy is needed. The battery is SMBus v 1.1 and SBData v1.1 compliant, with an intelligent battery system and highly accurate fuel gauge display. It also features advanced thermal and over-charge protection. It is smart charge compatible with multiple charging options.
"The BB-2590 was designed to meet MIL-PRF-32383/3 specifications, and the product is superior to the market in terms of performance due to the implementation of advanced cell technology," said Derek Kane, EVP of Americas Operations and General Manager of Medical & Military Division. "Preliminary test data shows that our BB-2590 battery outperforms current available market versions in terms of capacity, total power/energy, operating temperature and cycle life."
In addition to its superior performance, the BB-2590 is competitively priced. Inventus Power has supported a broad range of markets and applications for almost 60 years and its long-standing partnerships with cell suppliers significantly drive down costs to manufacture a more cost-effective product; these savings are then passed along to the customer.
Last month Inventus Power announced a Medical & Military Division, structured to better meet the needs of its global OEM customers, which often develop highly engineered and highly regulated devices. This division is supported with key investments in R&D, capital/equipment, infrastructure and staffing/talent management at its U.S. manufacturing location and corporate headquarters in Woodridge, Illinois. The BB-2590 is one of the many portfolio enhancements to come out of the division.
Learn More about Inventus Power's High Performing BB-2590 Rechargeable Battey