Inventus Power is excited to announce that its Technical Center in Guangzhou, China has received new accreditations from UL & TÜV Rheinland; thus expanding its in-house testing and certification capabilities for medium-to-large format battery packs. The authorization of new qualifications will shorten the product development lifecycle while reducing costs of certification, which ultimately helps our customers get their products to market sooner.
On October 26, 2020, TÜV Rheinland, the international independent third-party testing, inspection, and certification organization, awarded Inventus Power's test laboratory in Guangzhou with designation as a "Customer Testing Facility (CTF) Lab". Our testing center has been certified by TÜV as a CTF Lab from 2009 through 2020 for IEC 60950-1, IEC 60065, IEC 62368-1, IEC 60335-1/-2-29, IEC 62133-1/-2 and IEC 61960. It is now also authorized under the IEC 62619 standard. Obtaining CTF lab certification enables Inventus Power to utilize its in-house labs and testing equipment for CB certifications with TÜV Rheinland.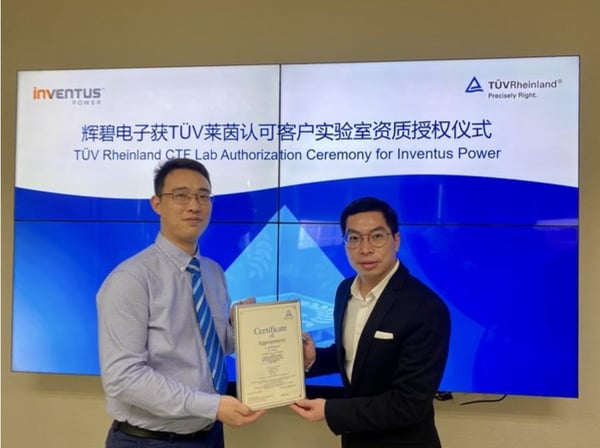 At the certification presentation ceremony, Fu Zhixin, Deputy General Manager of TÜV Rheinland Greater China Electrical, stated, "Inventus Power invests massive manpower and professional equipment in product testing, pays great attention to quality and safety, and is determined to promote the rapid and stable development of the industry. TÜV Rheinland looks forward to further deepening its cooperation with Inventus Power, enhance exchanges between our two companies in regard to lab technologies and management, and assist Inventus Power in building its international reputation and cultivating competitive edges with high-quality services."
Additionally, on October 30th, UL, a leading global safety science organization, awarded our Technical Center Asia with UL Client Test Data Program (CTDP) and Customers' Testing Facilities (CTF) Accredited Laboratory Certification.
Early in 2014 and 2016, Inventus Power obtained UL CTF and UL CTDP Accredited Laboratory Certification, respectively. In fact, Inventus Power was the first client in the UL South China area to obtain the UL 2054 CTDP qualification. After UL's evaluation of product safety design, and laboratory management, the Technical Center in Guangzhou will have authorization to test in-house for UL 2271 CTDP & IEC 62619 CTF and send reports to UL for qualification of medium/large format batteries.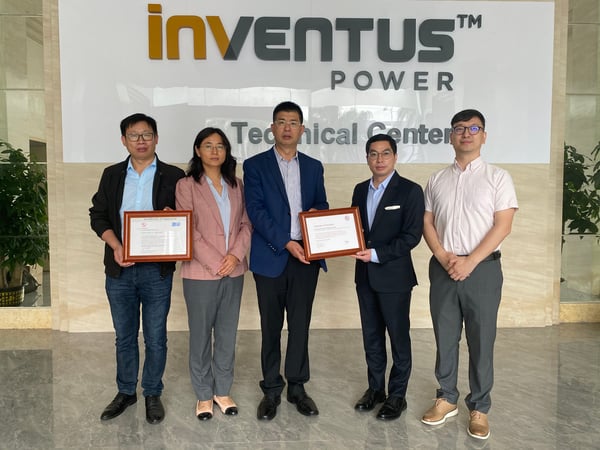 "Receiving these accreditations from TÜV & UL is a notable achievement for our organization and a testament to our Technical Center's expanding capabilities," stated Sundy Liu, Vice President of Inventus Power Asia Technical Center. "The authorization of new qualifications will shorten the product development lifecycle while reducing costs of certification, which ultimately helps our customers get their products to market sooner."
Read more from TUV new announcement & UL news announcement