Inventus Power, a global designer and manufacturer of battery packs, chargers and power supplies for the commercial, industrial, consumer, medical and military markets, today announced that it has joined the Soteria Battery Innovation Group (BIG.)
Soteria BIG is a consortium of companies representing the ecosystem of developers and users of energy storage technology for a wide range of markets. Soteria's separator and current collector technology, which helps to prevent an internal cell short circuit from escalating into thermal runaway, is just one example of new safety technology that the consortium would like to promote to the market.
"As the energy density of lithium-ion batteries has increased, there has also been an increase in companies and industries that are adopting li-ion battery technology. Along with this increase in adoption rate, there have been seemingly daily announcements of safety incidents concerning li-ion batteries across various markets/applications," Chris Turner, CTO of Inventus Power. "As the global leader in advanced battery systems, we have a long-standing history of developing safe, high-quality and reliable power solutions for wide range of markets. Inventus Power supports the continued development of new safety technologies at the cell, battery pack and device level and we believe that the BIG consortium's mission of zero lithium-ion battery-related safety events can be realized."
"Inventus brings significant expertise to help our other consortium members integrate the Soteria architecture into battery packs adapted to specific applications and markets. We look forward to working closely together to optimize safety, weight and cost improvements for its customers' and our consortium members' benefits," said Brian Morin, CEO of Soteria BIG.
Both Inventus Power and Soteria Battery Innovation Group will exhibit at the International Battery Seminar in Ft. Lauderdale, Florida on March 25th through the 28th. Soteria is also having its second member meeting on March 25th where Mr. Turner will join representatives from NASA, Mercedes-Benz, NIO and Motorola Solutions on an end-user panel discussion of the technology.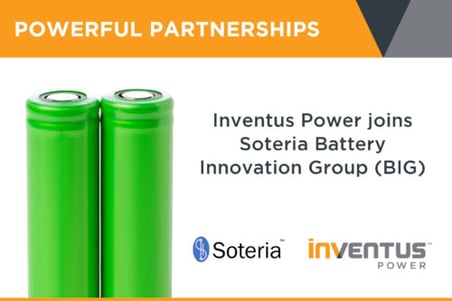 Inventus Power's decades of experience designing rechargeable power systems across multiple markets and a dedication to safety, quality & innovation aligns with Soteria's mission of zero lithium-ion battery safety events.