Inventus Power is excited to announce that we obtained EN 50604-1 product safety certification for the first time, which expands our portfolio of battery safety certifications and reinforces our commitment to designing and manufacturing safe, high-quality battery and power systems. TÜV Rheinland presented the EN 50604-1 certificate at the 15th Annual China International Battery Fair (CIBF), which was accepted by Sundy Liu, our Vice President, Asia Technical Center GM.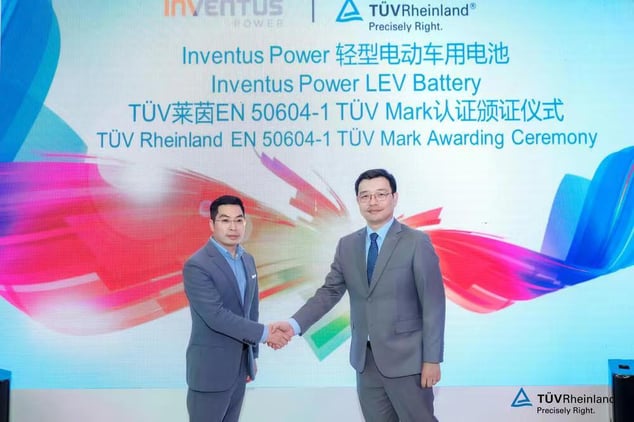 As noted in a press release from TÜV Rheinland, "With society's accelerating development in technology and drive for more sustainable power sources, Li-ion battery products are becoming more in demand and finding homes in a variety of applications, including new energy vehicles, electric bicycles, electric scooters, electric wheelchairs, golf carts, construction equipment, material handling equipment, ground maintenance vehicles, personal mobile transportation, energy storage , medical equipment.... At the same time, the safety of battery products has increasingly become one of the most concerned issues."
EN 50604-1 is a European Standard that specifies testing procedures and acceptable safety requirements for secondary lithium batteries used in light electric vehicle applications. Inventus Power obtained the TÜV Mark certification of the latest EN 50604-1 standard after passing the ISO13849-1 functional safety assessment using one of our custom OEM battery packs built for an electric scooter application. "Obtaining EN 50604-1 certification is a notable achievement for our organization and showcases our expanding design, engineering and product development capabilities," stated Sundy. "Ensuring safety and quality of our products is a top priority of our company, and this certification is one among several others that reiterates this commitment."
Inventus Power has a been partnering with TÜV Rheinland for almost 30 years in support of IEC international standards and global market access services including testing, certification and personnel training. We look forward to continuing to work together to build an eco-system of safe and sustainable battery and power solutions across energy storage, xEV and other sectors.