Inventus Power is excited to introduce a new innovation that is going to make our Warfighters more capable and combat-effective in their missions while increasing safety and reliability in their energy-based devices.
It's an innovative upgrade to our proprietary, patented, 150Wh Conformal Wearable Battery (or CWB), a thin, lightweight, flexible lithium-ion (Li-ion) battery that can be worn comfortably on the body, providing safe, smart, and reliable power for essentially any Soldier-worn device, without disrupting mobility or comfort. The Inventus Power CWB is a drastic improvement from the traditional battery packs that have been used by the military. Practically every Warfighter knows—and often dreads—the ubiquitous BB 2590 battery pack, a heavy, sharp-cornered, hard plastic "brick" that has been the incumbent source of Soldier-carried power for decades. Although effective, it was uncomfortable and certainly contradictory to the image of the modern, sleek, highly mobile American Warfighter of today.
In 2011, Inventus Power's innovation allowed us to help replace that burden with the original 150Wh Conformal Wearable Battery, pushing the envelope in advanced lithium-ion technologies and becoming the first—and still only—company to offer a fully qualified lithium-ion battery pack that was lightweight, powerful, safe, and ergonomic.
For more than a decade, the 150Wh CWB has been the only fielded and qualified conformal wearable battery to meet 100% of the military's performance specifications. Thanks to organizations such as Program Executive Office (PEO) Soldier, the Defense Logistics Agency (DLA) Land & Maritime Division, and Marine Corps Systems Command (MARCORSYSCOM), more than 150,000 CWB batteries have been fielded to the Department of Defense. These battery packs have been used in applications such as the Army's NETT Warrior system, Integrated Visual Augmentation System (IVAS), the USMC's Expeditionary Power System, and more.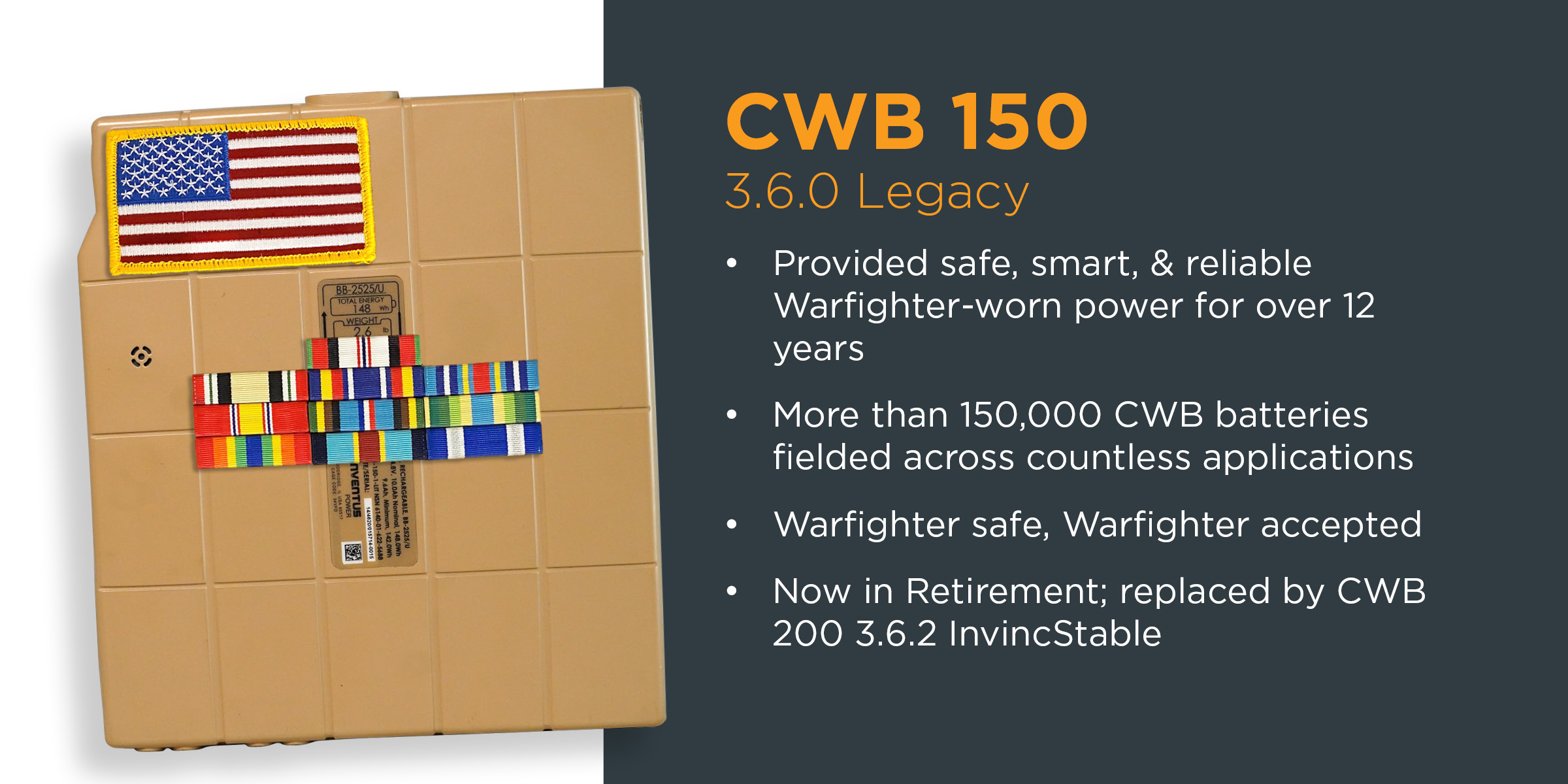 Since its invention, the Inventus Power CWB packs have served on essentially every contemporary battlefield, providing critical power to both conventional forces and the Special Operations community. Our CWB has performed effectively in operational areas such as Iraq, Syria, Afghanistan, Africa and elsewhere. These battery packs have been tried, proven true, and have been a trusted, reliable source of power for countless applications.
Inventus Power is tremendously proud of this battery's accomplishments, and we honor its legacy as we announce its retirement and discontinued production. Our Team is committed to build on its strong foundation and field a battery pack that is better for our nation's Warfighters.
Welcome the CWB 3.6.2 with 200Wh of power and improved warfighter-friendly features
There is no argument that the demand for safe, reliable Soldier-worn power is greater than ever. As our military strives to modernize and become a state-of-the-art fighting force, the need for power is at an all-time high. Our new 200Wh CWB 3.6.2 - featuring our exclusive Tranquility™ lithium-ion cell technology—delivers 33% more power in the exact same form, fit, size, and weight as its predecessor. With the new 200Wh CWB - the Invincstable™ - our Warfighters can effectively and confidently pursue longer and more complex mission profiles, without increasing their load or degrading their mobility.
Like its predecessor, the 200Wh CWB is safe, smart, rugged, and powerful. Despite its flexibility and conformal shape, this lithium-ion battery pack can withstand heat, ballistic impact, water immersion, and continue to deliver the critical power that our service members demand. The battery can seamlessly integrate and communicate with other energy-based devices and automatically shut itself down when necessary to conserve power. The CWB 3.6.2 is constructed using anti-propagation technology to vigorously protect the lithium-ion cell chemistry, and, amazingly, it is tested to take a bullet or shrapnel without causing any flammability or similar issues, optimizing the safety of the user and surrounding personnel.
In addition to more power, the CWB 3.6.2 comes with several improved features such as a state-of-charge indicator that provides the exact numeric percentage of charge remaining, providing better situational awareness of the User's combat power and increased confidence in the field. We have also added a USB-A port for greater connectivity to devices, increasing the number of applications the CWB can be used for.
Lastly, the new 200Wh CWB 3.6.2 is proudly engineered and manufactured in the USA at our Woodridge, Illinois facility.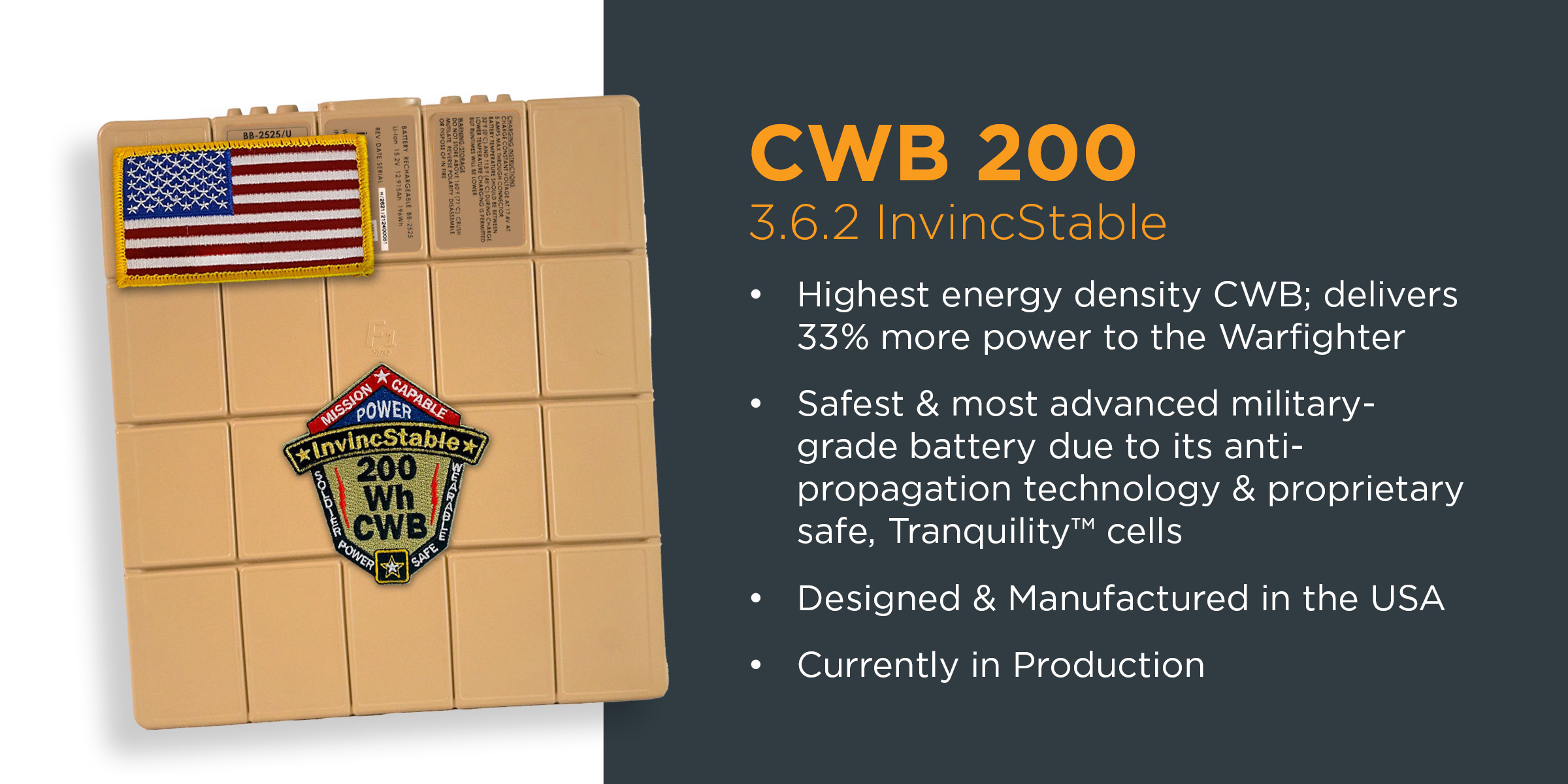 Honored to support the military
All of us at Inventus Power salute the military and continue to provide a broad and innovative portfolio of products to assist them in their mission and help keep them safe. We continue to focus and leverage our research and development capabilities to produce new, unique, advanced battery technologies for all spectrums of warfare—land, sea, and air.
Development of an even more powerful CWB that will eventually outperform and replace the new 200Wh CWB 3.6.2 is already underway.

John Heaton
Director of Business Development,
Government Programs & Support
For more information about the 200Wh CWB 3.6.2 InvincStable Conformal Wearable Battery or any of our mission-critical battery and power solutions, contact militarypower@inventuspower.com.