Last year, we announced that Inventus Power received ECE R100_rev3 Certification on our PROTRXion 48 volt lithium-ion (M-48V60-TRX) battery modules, making them an even better choice for powering category N1 up to 3.5 tons, M1 up to 9 seats, and passenger car and light commercial on-road electric vehicles with maximum speed exceeding 25 km/h.

The stringent R100 regulation provides assurance to our European vehicle manufacturing partners as to the ongoing safe performance of these batteries under a catastrophic crash test scenario, demonstrating their integrity in the face of flames, fire, thermal and mechanical shock, intense vibration and more. Further, these readily scalable, modular batteries are R100 certified in up to 9 parallel pack configurations for more power and performance. And, they are housed in plastic rather than metal boxes for even more practical modularity as well as weight savings in real-world vehicle applications.
All that means, in a nutshell, that even the most quality and safety-conscious electric vehicle manufacturers can specify PROTRXion 48V Li-ion batteries with full confidence.
It's an important development that helps drive continuous improvements in the demanding, innovation-driven European electric vehicle market. In fact, previously, manufacturers might have had to artificially limit the weight, speed, or other attributes of their vehicles in order to be street-legal and maintain certified safety status. Having access to a more powerful battery pack that is R100 certified now allows them to continue to push the envelope in electric vehicle performance, with bigger and faster vehicles especially apropos for the fast-growing European urban delivery and municipal vehicle markets. In fact, our partner Melex proactively jumped on the opportunity and is producing a larger, more efficient version of their popular N.50 utility vehicle, with the N.50 First electrified by Inventus Power (available only in Poland and Croatia).
Inventus Power has an overriding focus on safety
The certifying body ECE— Economic Commission for Europe— is a group within the United Nations whose responsibilities include establishing global standards for electric vehicles. The ECE has more than 50 members, most of which are based in Europe, as well as some outside trading partners such as the U.S. and Canada. Their goals are to remove barriers to international trade, protect the environment and promote road safety. UN ECE Regulation No. 100 (R100) and its strict homologation process specifically addresses the safety requirements related to rechargeable battery systems and other aspects of the electric vehicle power train.
While everything we create here at Inventus Power is geared towards helping our customers continue to push the envelope in the performance of their products, whether medical devices, military applications, electric vehicles or anything else powered by advanced battery technologies, safety is always the overriding concern, and is always the number one priority. We take it very personally. In fact, we all have a pledge: "People are my top priority, safety and quality start with me."

To be frank, performing the tests and seeking these certifications is costly and time-consuming, and relatively few battery companies are willing to do it. At Inventus Power, we consider it a vital investment in order to help our customers in Europe and around the world be fully confident in the safety and performance of our innovative, world class advanced battery solutions.
As a matter of fact, the M-48V60-TRX battery has earned other safety certifications in North America and Europe, with the latter including certification to standards such as ECE R10, IEC62133, IEC62619, FCC Class B, CE and UN38.3.

Committed to European vehicle manufacturers and the future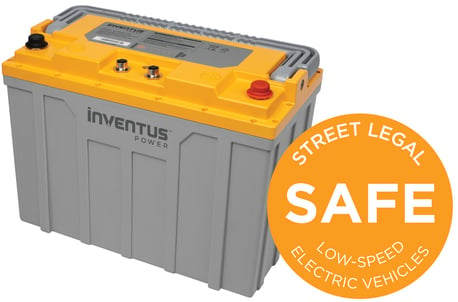 No doubt about it—achieving ECE R100 certification is a significant milestone for Inventus Power. It is not only a testament to our advanced battery design and manufacturing capabilities but also enables us to be an even stronger and more valuable resource for our European vehicle manufacturer partners through our growing and dedicated EMEA organization, of which I am a member.

Inventus Power is continuing to push forward and currently applying for certifications for batteries in the 72-100 volt range appropriate for optimum safety assurance in an even broader range of electric vehicles. So look for announcements of new ECE R100—and other—approvals in the coming months.

As to the M-48V60-TRX and other battery systems, we have a network of authorized distributor partners throughout Europe to help you benefit from this latest innovation. Feel free to reach out to me or a member of our EMEA team anytime at EMEA@Inventuspower.com to discuss your Li-ion electrification needs.

Oliver Bald
Senior Business Development Manager - EMEA