As ever, fleet and equipment managers at worksites and warehouses will continue to seek improvements in uptime and production efficiency. Aerial work platforms (AWP), such as scissor lifts, vertical lifts, and boom lifts, will be no exception. Telematic systems bring intelligence and precision to the workday, allowing managers to plan the day more strategically, better analyze performance, and respond to developments quickly.
---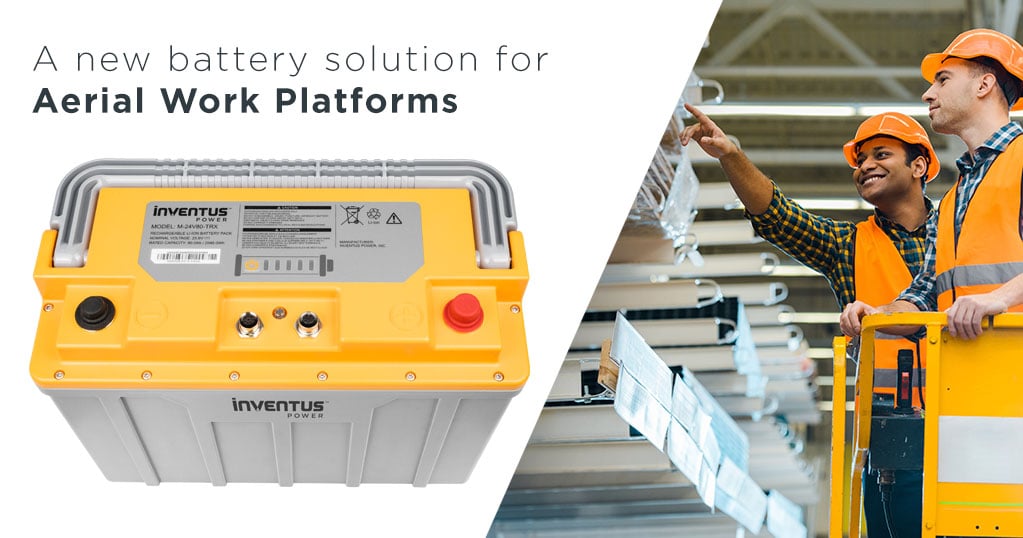 ---
Inevitably, these smart features will in part drive the switch to lithium-ion battery-powered systems, replacing noisy diesel engines and less efficient lead-acid battery systems. As the transformation of these aerial work platforms emerges, here's a look at how lithium-ion (Li-ion) battery power can solve productivity issues that often accompany diesel and lead-acid powered equipment.
The headaches of diesel equipment
Updating lift equipment to Li-ion technology improves life for everyone within listening distance. For example, scissor and boom lifts typically operate for two hours at a time, during which the diesel engine noise can create its share of headaches:
Construction and utility workers that use this equipment can be exposed to loud decibel levels, which could contribute to long-term hearing loss.

Also, engine noise from mobile elevated work platforms can disturb nearby sites, such as residential areas, a school that's in session, or a workday at a busy office.
Updating a fleet to electric lifts provides a safer workplace because it reduces the opportunity to damage workers' hearing, while also creating better conditions for neighbors during the completion of the project.
In addition to these benefits, Li-ion batteries also eliminate the need for gasoline-powered motors, removing virtually all the maintenance tasks: No need to change the oil, no need to water the lead-acid battery compartment. This means mobile elevated work platforms can get more hours of uptime and production.
AWP conditions challenge battery life
While a scissor lift and boom lift are built for working in rugged conditions, extreme temperature power surges can inflict more wear on lead-acid batteries, in effect shortening their expected battery life.
Even if the fleet manager is prepared with a stock of newly charged batteries, changing out a lead-acid battery is time- and labor-intensive, removing the machine from production for two to three hours. Considering lead-acid lasts 12-14 months, the capital costs of supplies and labor can add up.
Colder climates and refrigerated warehouses can be taxing on these battery systems, shortening their lifespan. In addition to cold temperatures, power surges and spikes that occur in daily use from lifting heavier loads or reaching the highest points can also cause stress that shortens battery life.
Because of that stress, the lead-acid battery will have less run time. Because these systems don't show accurate data on how much runtime remains in the battery, the machine can simply cut out while it's in use. Consider how this can raise the risk and liability of the company when a worker is stranded in the middle of a job.
Li-ion batteries are far more durable in these challenging conditions, as they can handle brief surges and power spikes, remaining operational in temperatures as low as -30 Celsius.
Li-ion has a staying power that eclipses lead-acid; in many cases, they can last the life of the lease.
Inventus Power PROTRXion Series for AWP
Inventus Power's PROTRXion batteries are designed, tested, and manufactured with the level of intelligence to maximize efficiency and uptime for aerial work platforms, making the conversion from diesel or lead-acid the clear choice.
Real-world endurance
The PROTRXion battery packs passed one of the most stringent operational tests that evaluate battery performance in Mobile Elevated Work Platforms. The Hird Test places a fully charged machine through a series of operational cycles until the battery power is depleted. PROTRXion's successful field test proved it was rugged in some of the toughest environments.
PROTRXion batteries have also passed other performance tests to prove their reliability in industrial environments.
In a recent customer field trial, the batteries passed a gradeability test within a scissor lift application. The machine was loaded with its max load of 550 pounds and placed in a 25-degree inclination (this is the max inclination that the machine is specified for). The machine successfully moved up the incline without triggering any faults, such as overcurrent, in the battery pack.

To validate the technology of the PROTRXion battery pack, the unit was subject to a series of highly accelerated life tests (HALT) to confirm that it would meet the life cycle requirements. The PROTRXion pack met all requirements and passed with flying colors.
Intelligent features
The PROTRXion battery pack uses intelligent features to preserve and maximize battery life despite human error. For example, a time-out feature powers down the machine after extended idle time, so it doesn't tax battery life — and preserves the energy needed to finish the task. This product also offers auxiliary power to support any external telematics for GPS asset tracking.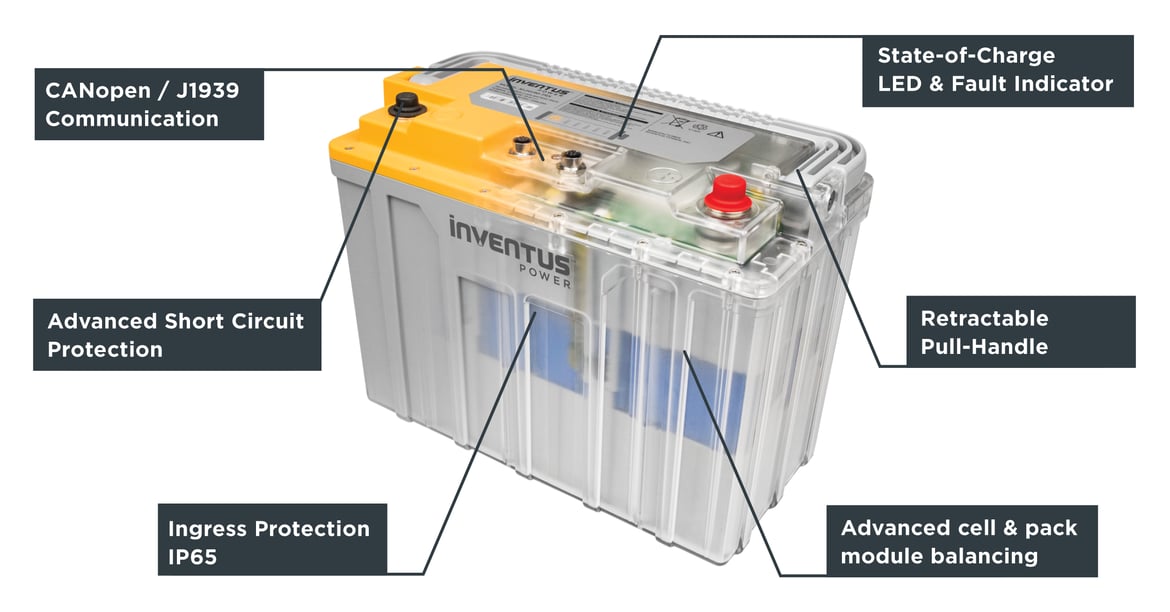 Deeper insights
The PROTRXion's patented technology is controlled by a proprietary battery management system (BMS) so the user can access the state-of-charge (SOC) & state-of-health (SOH) data in real-time, along with other details around energy usage. In addition, the battery pack offers advanced diagnostics to support predictive machine maintenance. Workers and fleet managers will always be in the know as to how much runtime remains in their equipment before starting another task.
Ready to power your aerial work platform with an intelligent, reliable battery system? Learn more about the Inventus Power PROTRXion and request a sample today.