Landscapers are on the verge of going electric. Though 98% of the market is still running on gas-powered motors, major brands are growing their offerings of cordless, battery-powered mowers, blowers, string trimmers, and snowblowers.
---
---
How Li-ion powered lawn equipment outperforms gas motors
Achieving that highly groomed appearance at hospitals, universities, and senior living centers isn't as effortless as it appears. It takes a landscaping crew armed with their mowers, edgers, clippers, blowers, and other equipment to get that clipped and tidy look. Gas-powered equipment brings the power to get the job done quickly, but they do have their downsides, especially when you compare them to newer models that run on battery-powered (Li-ion) technology.
Quieter, better neighbors
Engine-powered landscaping equipment brings power to the job, but they also bring noise, often exceeding 80 or even 100 decibels. These motorized noises are louder than that of a motorcycle or a jet taking off — which is why cities, homeowners' associations, and even businesses are setting noise limits on lawn and garden equipment. While some have set caps on decibel levels, (such as Washington, D.C.) others have banned gas-powered blowers and other equipment. Either way, quiet rules are forcing landscapers to upgrade to quieter electric equipment.
Li-ion powered equipment offers a solution to the noise issue. Many battery-powered mowers and blowers produce 65-75 decibels, which meets the need for quieter equipment.
Safer for workers
The quieter Li-ion powered equipment creates a safer work environment for two key reasons.
First, workers experience far less exposure to noises that cause hearing damage. Motorized equipment produces noise in excess of 100 decibels, which is well past the 70-decibel level where people start experiencing hearing damage.
Second, shouting to be heard becomes difficult over the roar of gas-powered equipment, making it difficult to warn workers about a dangerous situation.
Cleaner inside and out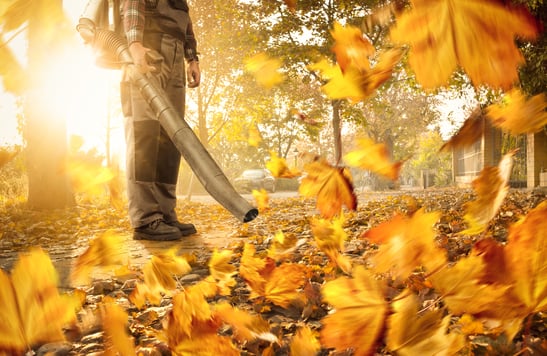 Gas-powered lawn equipment produces high levels of pollution which is gaining attention from environmentalists and lawmakers. In fact, California recently announced the ban of "small off-road engines" which are used in gas-powered lawn equipment. This law is intended to take effect in 2024 and is meant to help curb emissions. Li-ion battery-powered lawn equipment is a cleaner alternative to gas as it requires no fuels or solvents to operate or maintain. No spills, fumes, or burns also means a safer work environment. Landscapers who choose Li-ion battery technology can bill themselves as a cleaner and safer option at the worksite.
Zero maintenance
Switching from gas-powered motors to battery power eliminates many maintenance tasks engines require, like draining the fuel, replacing the belts, spark plugs, and changing the oil. Switching from lead-acid to Li-ion takes this upgrade a step further because, unlike a lead-acid option, Li-ion requires no monthly watering. Lithium-ion means more uptime for the machine — and more opportunity to earn money.
When it's time for seasonal storage of snow-clearing and landscaping equipment, Li-ion batteries require no additional maintenance tasks. A Li-ion battery discharges at a much lower and slower rate, holding its charge so you're one and done. Even after sitting idle for months at a time in frigid or sweltering storage shed, Li-ion always comes through as a failproof power source.
The PROTRXion advantage in Lawn & Garden
To stay profitable, landscapers often work multiple sites in a day — whether they're mowing acres of tall, thick grasses or hustling to reach four or five locations in an eight-hour workday. Landscapers want nothing less than a maximum performance power solution, and the PROTRXion battery management system from Inventus meets the need.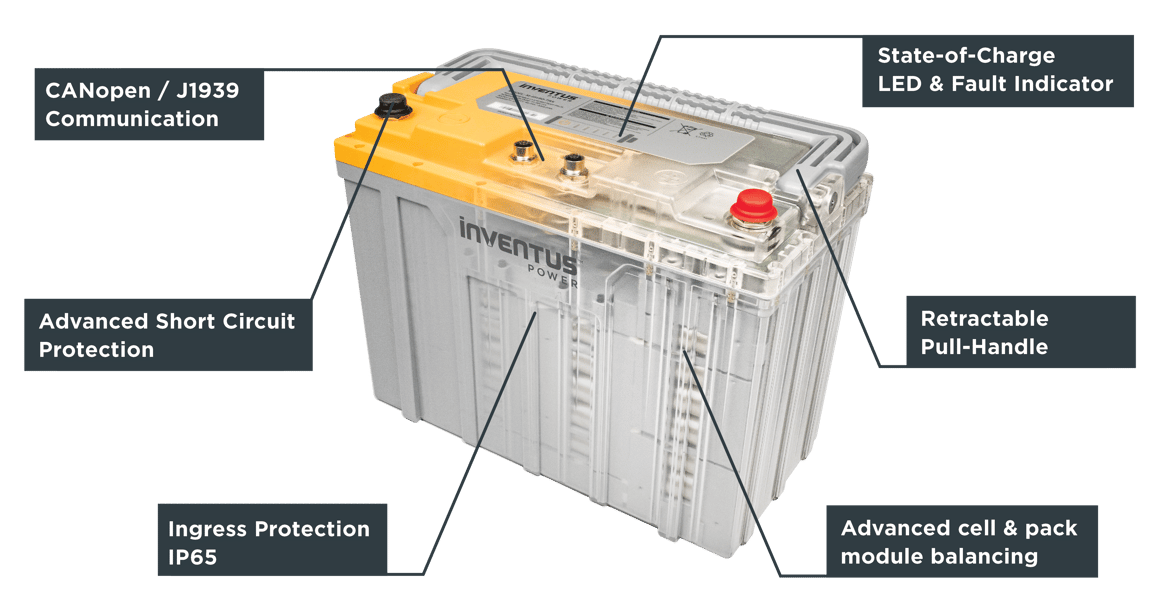 Long-lasting
PROTRXion batteries have a long calendar life. When used efficiently these batteries may last beyond a typical 5-year equipment lease.
Power and performance
Peak power in each PROTRXion battery system can handle up to 7.11 kilowatts, bringing enough power to the job. When more power is needed for a larger site, the battery system can scale up to 40 kW (50 hp).
Withstands environmental conditions
Landscaping companies operate year-round, and so do their trusty leaf blowers, clearing both leaves and snow. That's why a battery-powered system should function just as well in freezing temperatures as it does on the warmest day of the year. When temperatures dip below freezing, PROTRXion fires up and keeps going, staying functional down to -35 degrees Celsius. In use and in storage, PROTRXion stands up to summer heat and winter freeze cycles, indoors and out, maintaining its charge cycle for the life of the battery.
Rugged and tough enough for the hardest job
Landscapers can cover up to four to five job sites in a shift. This means landscaping equipment can take many hits throughout the day, between usage, loading, and transportation. The PROTRXion battery system is rugged enough to withstand shock from bumps and road as well as the most rigorous vibration. Battery components remain shielded from damage, always ready for the next job.
Protection against the elements
The PROTRXion battery system is IP65 rated and IP67 when mated, guarding components and systems against damp conditions, rain, even pressure washing.
The Li-ion advantage in landscaping equipment
Looking to upgrade your line of landscaping equipment with a strong, robust Li-ion battery management system? Learn more about Inventus Power PROTRXion batteries and request a sample today.