Customer demand for advanced battery systems across multiple markets drives successful opening of Inventus Power's new Tijuana facility, one of North America's largest manufacturing locations.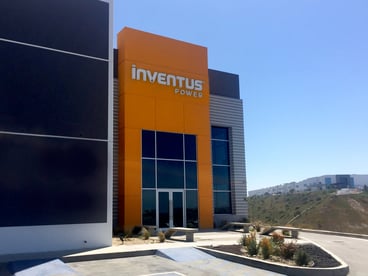 Inventus Power, a global designer and manufacturer of battery packs, chargers and power supplies for the commercial, industrial, consumer, medical and military markets, today announced that construction is complete of its new Tijuana-based manufacturing facility, featuring a Medical Center of Excellence, dedicated controlled production area to support medium-to-large format battery production & testing, and a Customer Experience Center.
The facility is located at Ave. Guerrero Negro 9985, Parque Industrial Pacifico C.P. 22643 Tijuana, Baja California Mexico. The phone numbers are: +52.664.231.4834 (MX); +1.619.929.3092 (US.) The site features approximately 100,000 ft² of manufacturing space with the capacity to further expand the footprint to another 80,000 ft² to accommodate customers' growth & demand, making this one of the industry's largest manufacturing facilities in North America.
"Our new facility will not only enable us to better meet the quality and delivery requirements of our domestic OEM customers, but allows us to be flexible during changing global political & economic climates and fluctuating market conditions," said Derek Kane, EVP Americas Operations and GM of Medical & Military Division. "By building out our manufacturing resources and capabilities in Tijuana, we can offer customers localized operations to drive down lead times and keep costs competitive." Inventus will continue to make significant equipment and capital investments over the next three years for facility and building infrastructure, as well as additional production lines to accommodate new builds and product transfers across a mix of low-to-high volume/complex applications and medium-to-large format battery systems.
The facility's Medical Center of Excellence highlights its ISO 9001, 13485 & C-TPAT certifications and TAA compliance to support the development of Class I, II & III Medical Devices. As with all Inventus Power facilities that build healthcare products, the Tijuana location follows the Patient Priority Program, a behavior-based quality program that creates a culture of empowerment and accountability. Inventus Power employees are encouraged to consistently think about the people (often patients) who benefit from a medical device and make it a priority to ensure that safety, quality and reliability stay top-of-mind throughout the entire build process.
This location also includes a Customer Experience Center, which provides visitors with an opportunity to learn about Inventus Power's long-standing history within the industry and evolving engineering & manufacturing capabilities.
In anticipation of the location's opening, the site's workforce increased by almost 300% from 2016 to 2017, which now boasts almost 400 employees. The company continues to actively recruit and hire for multiple manufacturing, engineering, finance and supply chain roles. Interested candidates should contact HR@inventuspower.com.