Upgrading gas-powered golf carts with electric battery-powered models is a proven hole-in-one investment for golf courses. Eliminating the noisy engines instantly betters the playing environment on the green while reducing the labor and expense of maintenance and upkeep that come with internal combustion engines.
The consensus was clear: Electrifying the fleet of golf carts was a win.
Despite the benefits, traditional battery solutions have their downsides on the links. Flooded lead acid batteries require weekly watering and maintenance for optimal performance. Furthermore, if they are improperly maintained or stored during the off-season, this could cost fleet owners significantly with additional battery replacements.
Such issues with lesser-designed systems can hide the truth about battery technology among skeptics. But that's about to change.
Inventus Power's new
48V PROTRXion™ High Discharge battery (S-48V60-TRX-HD)
is designed to operate golf carts for the entire day — enough to complete 3 rounds of 18-hole golf — with sufficient power to move carts around the hilliest courses. This battery can be put to immediate use because it is compatible with existing lithium-ion or lead acid battery systems without the need to replace components.
What is the PROTRXion™ HD Series?
The core feature of S-48V60-TRX-HD battery is that it offers more power in a smaller package. This battery has 3.2kWh of energy and provides up to 20kW (26.8 hp) power in a single battery and manage a full day of golf on a single charge. For golf course managers, this means more productivity with zero maintenance.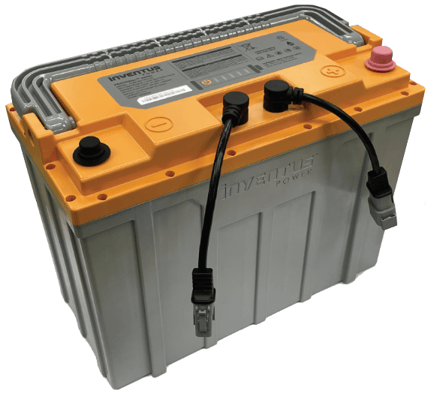 Important key features of the S-48V60-TRX-HD include:
One powerful battery addresses the unique needs of any golf cart in the fleet — two seaters, six-seaters, as well as utility carts. The battery pack offers one reliable, high-powered solution to simplify and streamline fleet management.
Scalable to increase range and power; is as simple as connecting additional batteries; for example, connecting two batteries doubles the performance and range.
Compatible with existing charger to eliminate the need for a new charger and complicated hardware and wiring changes.
Lightest battery solution weighing at 42 lbs (19.1 Kg) to provide the most pound-for-pound power compared to any other golf cart battery on the market.
Features an integrated 12V auxiliary power supply for golf cart accessories, such as GPS, scoring tools, audio equipment, head/taillights, rock lights, plug-in-coolers, and more.


How will PROTRXion™ HD transform the golf fleet industry?
The S-48V60-TRX-HD is the only battery you'll need to power up your existing fleet of electric golf carts for the life of the lease. Unlike lead acid solutions, there are no significant performance drops during the life of the battery and eliminates the need of battery replacements. This plug-and-play solution immediately transforms the golfer experience and minimizes fleet management operations.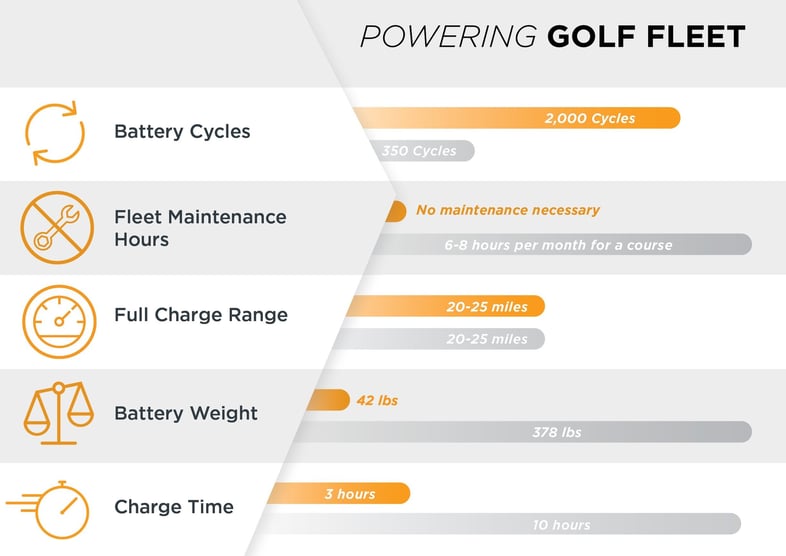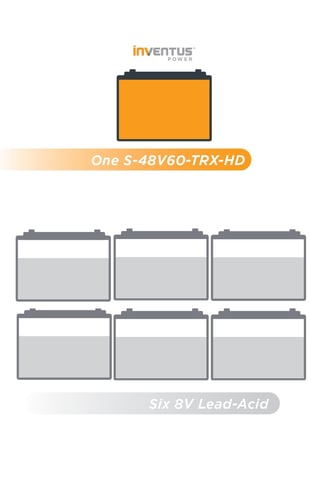 Certified safe
With global certification, such as UL2271 for on-road and off-road vehicles, these batteries are proven to be safe and reliable. Now you can feel more confident than ever that the carts will do what they are supposed to do, so golfers can focus on what they came to do: enjoy their time on the course.
Less stress
The S-48V60-TRX-HD offers fast, easy handling, without requiring a lift with installation. Lighter batteries also lighten the load on the golf cart's power train and reduce tension on the cart tires, ultimately extending the amount of time between maintenance appointments. Over time, lighter batteries reduce maintenance costs for the fleet overall. Not to mention, less weight helps preserve the course.
Intelligent insights on battery life
Realtime data analytics on battery performance, life, and run time, allow for greater predictability so golfers and maintenance won't get stranded in the middle of a course. Having these insights puts managers in complete control of their fleet. The S-48V60-TRX-HD battery can communicate its state of charge with existing monitoring systems on the vehicle. Inventus Power also offers a Smart Battery Monitor add-on device that can be installed on the cart.
More time and enjoyment on the course
A single PROTRXion S-48V60-TRX-HD battery has ample energy and power to keep the cart going to the final round of the day, giving players a more enjoyable experience on the golf course.
Ready to power your fleet of golf carts with a reliable, high-performance Li-ion battery? Learn more about Inventus Power's S-48V60-TRX-HD batteries for low speed electric vehicles and request a sample today.