Inventus Power is excited to participate in the Future of Electrification 2023 conference taking place May 9-10 presented by our partner Delta-Q Technologies and ZAPI GROUP. Members of our EMEA team, Santiago Antolin and Oliver Bald, will be presenting on the topic, "Accelerating Electrification of Off-Highway Equipment through Standardization" on Wednesday, May 10th at 12:00 pm ET/ 6:00 pm CET.
Guided by the theme, The Race To Sustainability Through Electrification, this two-day virtual event will be filled with educational presentations and panel discussions covering case studies of electrification, new technology, emerging research, examples of managing transformation, and discussions about the ROI of sustainability. Register Now for Free!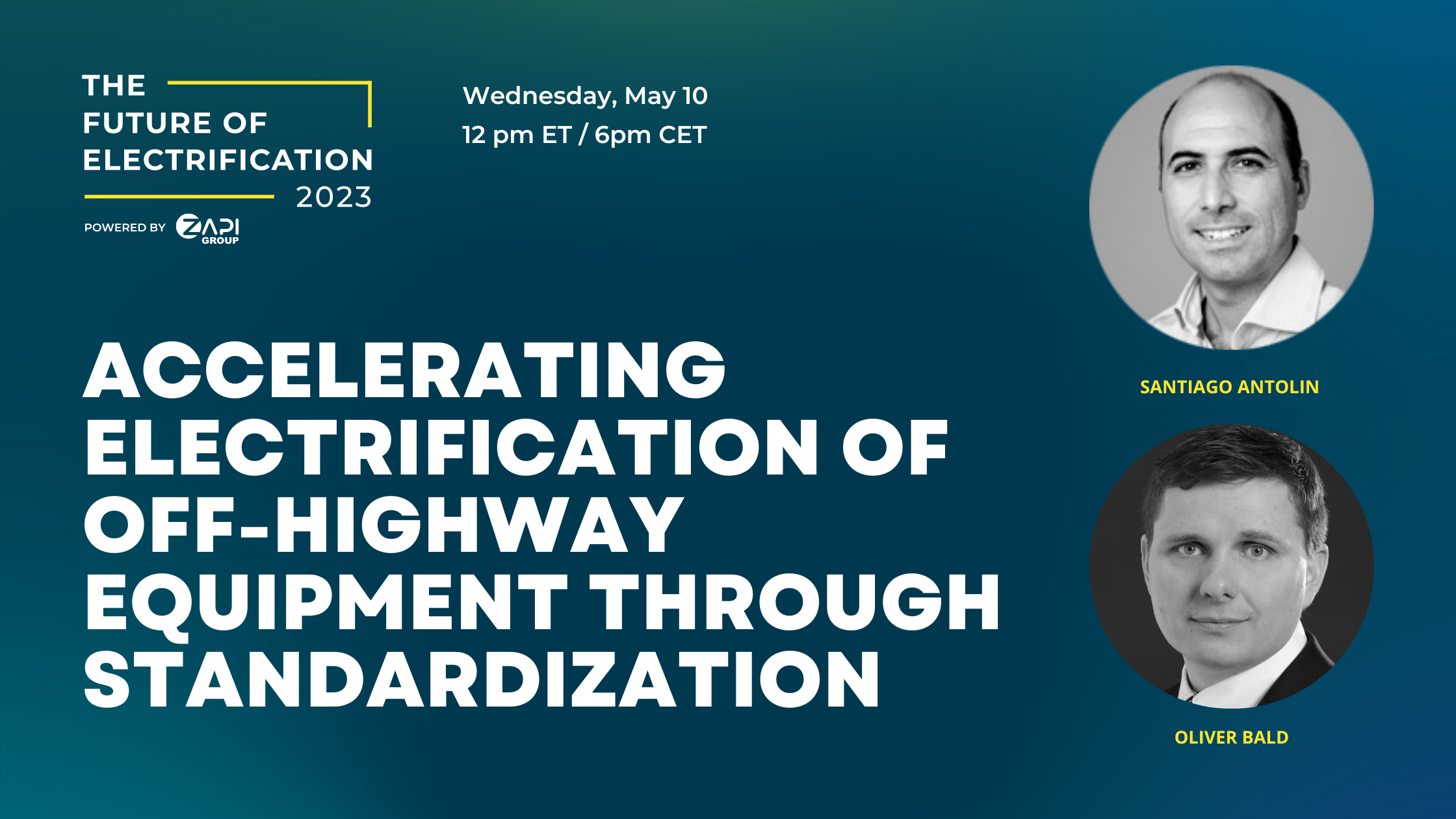 Inventus Power Presentation:
Accelerating Electrification of Off-Highway Equipment through Standardization
Date: Wednesday, May 10, 2023
Time: 12:00 pm ET/ 6:00 pm CET
Speakers:
Santiago Antolin, Senior Field Application Engineer - EMEA
Oliver Bald, Senior Business Development Manager - EMEA
Description:
OEMs of off-highway equipment, such as those within the construction, mining, and agricultural sectors, are faced with regulatory pressures to reduce CO2 emissions and limit their manufacturing of diesel-powered vehicles and therefore looking to leverage Li-ion battery technology in their electrification strategies. As a leading manufacturer of Li-ion batteries, Inventus Power has first-hand experience working with OEMs and has gained an understanding of the market needs and requirements in off-highway applications. While battery customization comes with some advantages, there are some drawbacks when it comes to integration hurdles, regulations, and mass production. In order to drive more rapid adoption, we feel that industry standardization is the best approach.
This presentation will explain what Inventus Power is engineering towards to drive standardization within the battery industry from the component level to battery & platform design to testing & certification. We'll also explain how, with new technologies such as Internet of Things (IoT), components can be interconnected and easy to track in the field for troubleshooting and data analysis (i.e. trends, performance, etc). Register Today!