Inventus Power will be attending several industry events this year. Check out our current list of 2019 exhibiting trade shows and speaking engagements:
February 5-7, 2019
Anaheim, CA USA
Co-Exhibiting with David Schnur & Associates - Booth #2439

March 25-28, 2019
Fort Lauderdale, FL USA
Exhibiting - Booth# 429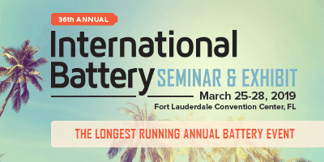 September 10-12, 2019
Novi, MI USA
Exhibiting - Booth# 2522

October 14-16. 2019
Washington, DC USA
Exhibiting - Booth# 3933

If you are interested in attending any of these events and would like to schedule a meeting with an Inventus Power application engineer or industry expert, please contact us today!