On October 22nd, Electronic Component News (ECN) hosted a live awards event for their 2017 Impact Awards program, which recognizes design excellence in nearly 14 categories. We are proud to announce that our Conformal Wearable Battery (CWB) was awarded 1st place within the Power Sources & Conditioning Devices category! Read more about the 2017 ECN IMPACT Awards.
More About Our Award-Winning CWB: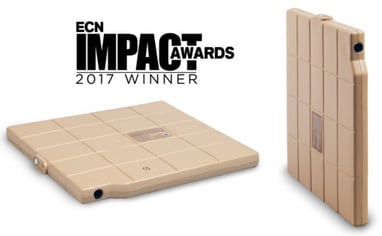 The Conformal Wearable Battery, or CWB, is a centralized, wearable power source that conforms to the body and can be worn in either the side or chest/back pouches with the ballistic protective plates, virtually invisible and transparent to the Soldier. This innovative power solution significantly reduces the various battery types and quantities the Soldier has to carry, and will reduce the carried battery weight attributed to the size, weight and power required to support a mission.
The concept emanated from Inventus Power's Dismounted Power™ architecture, allowing the flexibility of design to meet the needs of the Soldier for current and future configurations of wearable power. The CWB serves the Soldier today, enabling enhanced ability to shoot, move, and communicate and our technical roadmap continues to deliver systematic innovation, advancing the CWB while making the Soldier's mission safer, load lighter, and providing more power resulting in increased mission capabilities.
The CWB has exceeded military requirements and not only conforms to the ESAPI SMALL plate dimension and allows the Soldier the flexibility to position the CWB anywhere for any mission but it also is electromagnetically compatible with all Ground Soldier Systems. When carried by the Soldier as their central power source, it minimizes their overall weight load. The CWB is the only fielded and proven battery of its kind. It is the first flexible, safe battery ever purchased by the DoD. The CWB, unlike other batteries in "conformed" hard cases, provides unique features that benefit the Soldier.
Contact militarypower@inventuspower.com for more information or request a quote.