This year Inventus Power was a virtual exhibitor at BIOMEDigital, an event that focuses on the latest innovations in medical devices. Read our interview with Bob Zielke, Senior Director, Business Development, for show highlights and insight into the medtech industry.
Why was BIOMEDigital an important event for Inventus Power?
Bob: Inventus Power has been a part of the BIOMED and MDM community for years. These tradeshows bring together engineers, suppliers, and buyers searching for the latest technologies in medical device design and development. As a leader in the design and manufacturing of advanced battery systems, we look forward to discussing how our power solutions can fit the needs of medical device OEMs.
Normally this is an in-person event, but this year it went virtual. How was this experience?
Bob: With a global pandemic, many onsite events have converted to digital formats. While we supported this safety measure, we do look forward to returning to in-person events! This year, BIOMEDigital offered a virtually rendered conference hall that allowed us to showcase our products through linked resources and provided an opportunity to network live with attendees.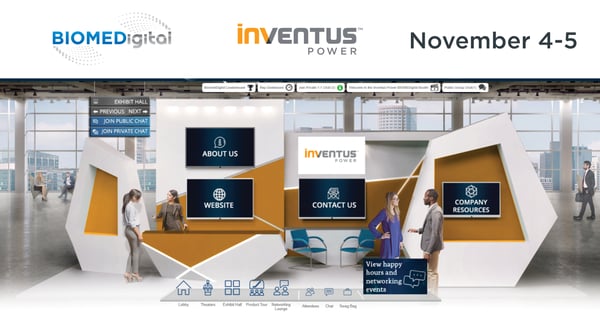 What technology trends, specifically in power solutions, are taking place within the medical device industry?
Bob: Wearable/portable medical diagnostics and treatment options are emerging and sparking activity. Additionally, more industries are moving away from lead-acid batteries and converting their applications to lithium-ion (Li-ion), and we are noticing this in the medical market too. OEMs of wheelchairs, medical lifts, and other higher power medical equipment are starting to transition to Li-ion as costs for this chemistry is coming down. We've been specializing in Li-ion technology for years and our U1LiFe batteries are ideal for medical carts and patient monitors. Featuring Lithium Iron Phosphate technology, our U1LiFe batteries offer significant advantages over sealed lead acid in terms of cycle life, safety, run time and maintenance costs, thus providing an overall lower total cost of ownership.
Why should industry OEMs partner with Inventus Power for their medical devices?
Bob: We've been in business for 60 years and have become a trusted partner to some of the world's most well-known medical device OEMs. Our customers rely on our application expertise, engineering experience, quality systems and proven safety record. In fact, in our most recent webinar, "Medical Batteries: Overcoming engineering challenges with design best practices,"(now available on demand), we provide expert advice on designing safe and reliable battery packs for portable, mobile, and stationary medical applications.
Beyond the device, we are always thinking about the end user - patients and healthcare providers. Our Patient Priority culture holds us accountable for ensuring our products are built with the highest quality and safety standards. We want to ensure that every employee who is involved in making the components for medical devices understands the critical nature of what they do and how they play a role in improving people's lives.