Last month, Inventus Power exhibited at The Battery Show 2021, the largest advanced battery manufacturing event in North America. Check out our interview with Phu Tran, Director Global Product Management, for event highlights and a glimpse into the battery industry.
Why is it key that Inventus Power exhibit at The Battery Show (TBS)?
Phu: We've been exhibiting at TBS for years as it's a great event to gain market intelligence within the battery industry as well as meet with customers and suppliers. It was important for us to physically be at the show this year as we've expanded our portfolio of products and capabilities. We were eager to showcase our low voltage (LV) and high voltage (HV) battery systems which are designed to power motive applications that require advanced battery systems, such as low speed electric vehicles, professional cleaning equipment, aerial work platforms, robotics, construction equipment and more.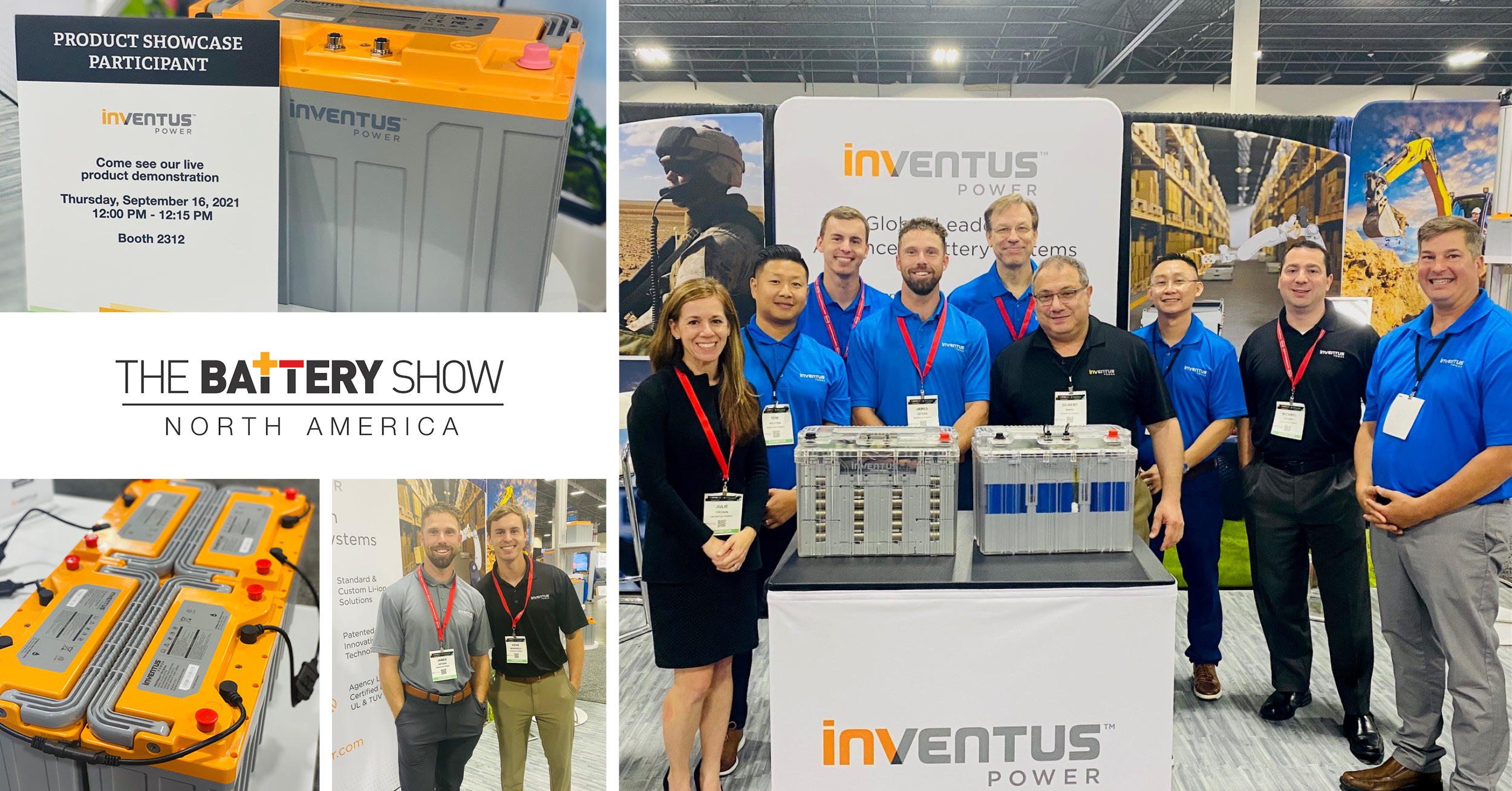 Last year's TBS was a virtual event, so how was it going back to in-person this year?
Phu: We were really impressed with how many people came out this year and visited our booth. Last year's TBS Digital Days was a virtual alternative, considering 2020 was just not the best time to meet in person. However, being back on a tradeshow floor made us realize how nothing beats seeing customers face-to-face to have open dialogue about technology, product roadmaps, and service support.
What are a few of the latest battery technology trends?
Phu: There were definitely a lot of conversations from customers and suppliers around higher voltage (HV) applications. Many customers don't have the know-how and engineering resources to modify or customize their systems and are leaning on the battery supplier to help retrofit a drop-in solution.

Overall, there's a push for electrification of applications that historically run on internal combustion engines (ICEs). Original equipment manufacturers (OEMs) are interested in the intelligence that lithium-ion (Li-ion) battery power offers compared to ICE and even lead-acid battery systems.
Phu: First, a huge thanks to our very own Kevin Mengarelli, Sr. Systems Engineer, for an excellent presentation! Kevin spoke on the considerations when switching from lead-acid to Li-ion batteries in light electric vehicle (#LEV) applications and how to solve common charging issues. This transition can be very easy, as any charging issue can be resolved with the right Battery Management System (BMS) and charger.
Quite often, people focus on the battery and not the whole power system, including the charger. Recently, Inventus Power joined Delta-Q Technologies' Battery Compatibility Program, which provides us with the tools to pursue new opportunities with OEMs. Partnerships like these ensure that we're bringing the most reliable power system to our customers.
What were the products or solutions that brought people to your booth?
Phu: Many of our visitors were interested in our HV-24 (high voltage) system (still under development), the lawn & garden industry's 1st hot-swappable commercial battery that was custom designed for ArienCo's Gravely® Pro-Turn® EV zero turn mower, and our flagship Conformal Wearable Battery (CWB) invented for the U.S. military. There was also an emphasis on our line of PROTRXion batteries. Bob Zielke, our Sr Director of Business Development, actually provided a product demonstration as part of the show's Product Showcase feature. These new Li-ion batteries are a high-performing, fast charging, and maintenance-free solution for motive applications for everything from LSEVs to robotics, professional cleaning equipment, and more.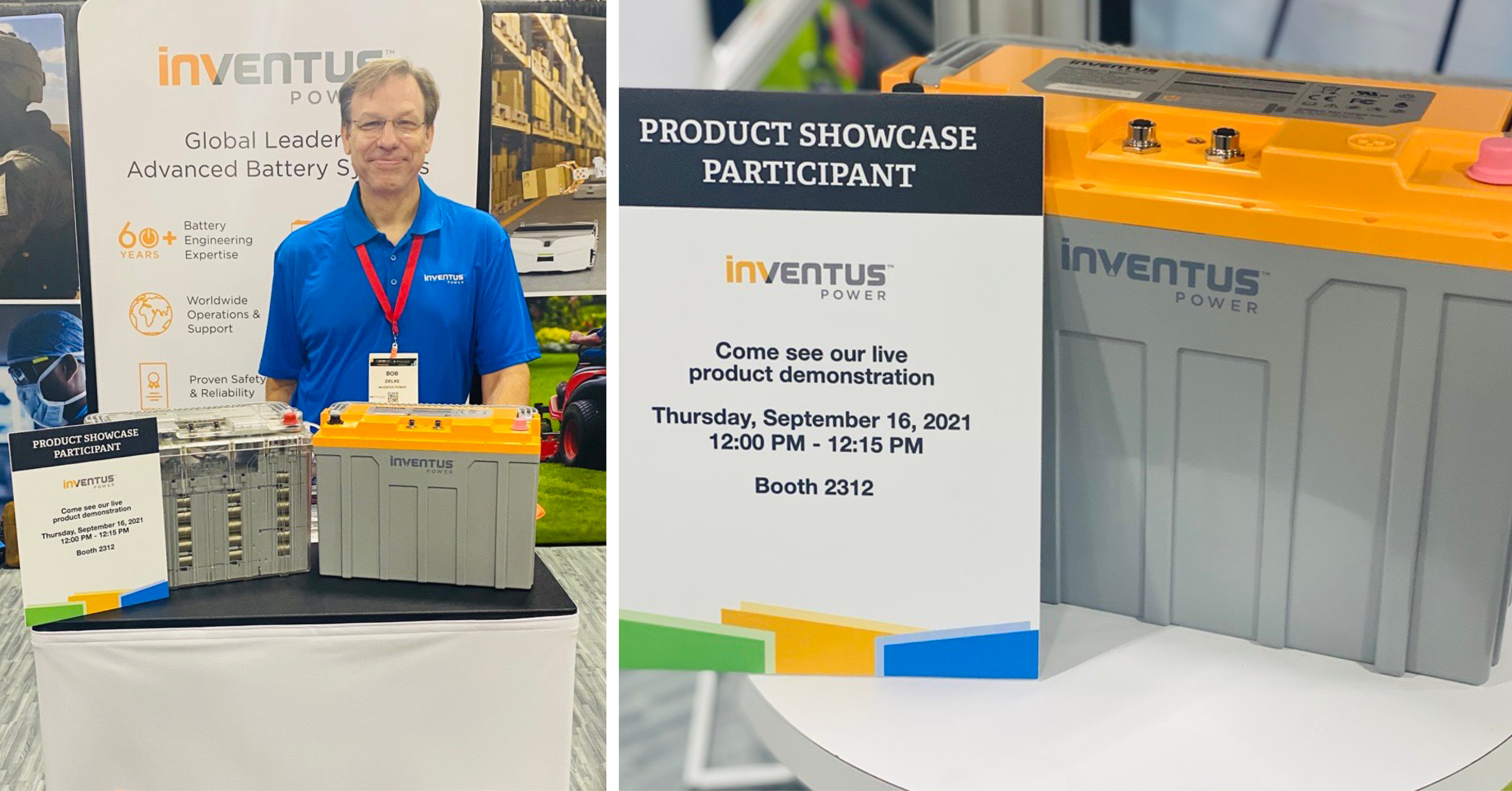 What are the top three reasons an OEM should partner with Inventus Power?
Phu: Unlike other battery suppliers based overseas or using offshore cell manufacturers, we have a global footprint with facilities across eleven countries and four continents. We can provide local engineering and customer support, which builds trust and brings peace of mind. Our customers know they can rely on Inventus Power for safe and high-quality battery solutions, complete system integration, and field service / technical support.