Inventus Power, a global designer and manufacturer of battery packs, chargers and power supplies for the commercial/industrial, consumer, medical and military markets, today announced it won two major industry awards for its conformable wearable battery (CWB). The CWB was developed in partnership with the U.S. Army and aims to consolidate soldier equipment and increase energy independence.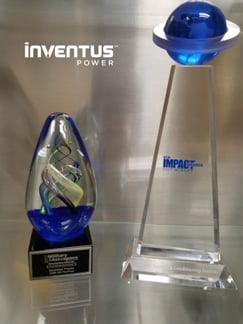 Inventus Power was awarded ECN Magazine's Impact Award which recognizes the top products and services in 18 categories across the design engineering landscape. The awards celebrate the hard work and innovation on the part of designers, engineers, and their teams in creating products which had the greatest impact on the electronic components industry in the past year. The CWB placed first within the Power Sources and Conditional Devices category.
The company was also awarded Military & Aerospace Electronics Magazine's Technology Innovation Award which recognizes companies offering substantial military, aerospace, and avionics design solutions. The CWB was awarded the Platinum Award, the highest honor for this program.
"The modern soldier carries several mobile electronic devices that require a significant number and variety of batteries in the field," said Mike Stein, Product Management Director for Inventus Power. "While innovative technology like wearable computing can increase soldiers' capabilities, the increase in weight can conversely hinder mobility and add to fatigue. Our CWB products provide soldiers with a safer, ergonomic, centralized power solution that reduces weight and the overall number of batteries needed for a mission. Soldiers can rely on power for up to 72 hours without having to recharge or replace battery packs."
Inventus Power has been leading the development of conformable wearable batteries which unify portable power sources into one ergonomically designed form factor.
Contact militarypower@inventuspower.com for more information about Inventus Power's solution for centralized, wearable soldier power or to request a quote.