Mark Batts, our Focus Factory Engineering Manager for Mil/Gov Products & SMT, is a U.S. Army Veteran who has been with Inventus Power for 7+ years. In this post, he shares why developing power solutions for mission-critical applications is so important.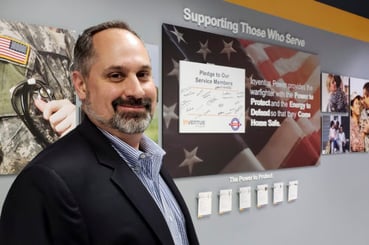 I have been a member of the Inventus Power Military Team since 2011. I started my career as a Technical Lead and now I am the Focus Factory Engineering Manager for Military & Government Products. In this role, I oversee a team of dedicated employees who are passionate about the safety and quality of the products we manufacture for those who serve and protect.
At Inventus Power, we proudly employ and actively hire U.S. Veterans and are extremely grateful for their service. Being able to support those who serve us, by designing and manufacturing safe, reliable, and innovative battery and power solutions for today's warfighter is something many of our employees value. I myself am a proud U.S. Army Veteran who served in the U.S. Army Reserves from 1990 to 1998 as an Automated Logistical Specialist (92A). During my military career, I was promoted to Sergeant (E-5) and was a squad leader. Years ago, I used the GI Bill and my drill compensation to pay for college. Today, I'm using my degree to support the military – bringing my career full circle.
Inventus Power is a global leader in advanced battery systems who has been supporting a broad range of markets and applications for nearly 60 years. At our U.S. manufacturing location in Woodridge, IL, we design and manufacture Lithium-based battery packs, chargers and power supplies for mission-critical applications. From our line of military-standard batteries and chargers to customized power solutions, our products are designed to withstand the most austere environments, keeping our servicemen and women powered and safe.
Because I am a Veteran, I enjoy the interaction with today's modern soldiers and the engineering challenge to make their jobs easier and safer. I've helped create solutions for the military's unique design challenges and improved upon existing technologies to provide those who serve rapid and valuable power sources. Our customized power solutions support handheld and manpack radios, military PDAs and computers, unmanned aerial vehicles, forward mission devices, military vehicle applications — virtually any electronic device required for the mission. We also offer a line of military-standard products, such as our award-winning Conformal Wearable Batteries (CWBs) and our new BB-2590/U battery pack, both which provide Soldiers with rugged and reliable power sources for increased mission effectiveness.
While our experience expands across many industries and we support a global customer base, I am most proud of our work for the U.S. Military & Government. It's gratifying to play a part in protecting our country and keeping America's heroes safe while supporting those who have already served.
On behalf of the Inventus Power Team, I would like to thank all of those who have served and continue to serve.
Wm. Mark Batts | Focus Factory Engineering Manager, Mil/Gov Products & SMT