Inventus Power recently joined Delta-Q Technologies' Battery Compatibility Program. This partner referral program provides our OEM customers with tested and validated Delta-Q charging options that are fully compatible with Inventus Power's PROformance Li-ion Batteries. In a recent Delta-Q interview, our very own Phu Tran, Director of Global Product Management, explains why the "Charged by Delta-Q" program is such a good fit for Inventus Power.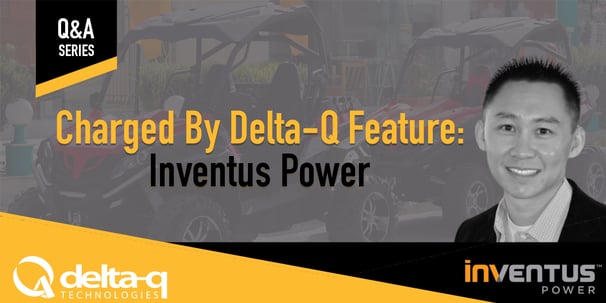 Delta-Q: What makes Inventus Power stand apart as a battery manufacturer?

Phu Tran: Inventus Power is an established and trusted leader in the battery industry. We have over 60 years of experience designing and manufacturing power solutions for the world's largest original equipment manufacturers across a broad range of portable, stationary, and motive applications. This depth and breadth of experience provide our engineers with a better understanding of application needs to ensure our products are developed to meet the most rigorous safety standards, reliability, and performance expectations for our customers and end-users.
In addition to our industry experience, our engineering expertise sets us apart from other manufacturers. We support our customers by offering customized battery pack solutions to meet their unique requirements (size, shape, performance, etc.). We've also expanded our standard portfolio of proprietary battery packs to meet the growing demand for high-performance lithium-ion battery solutions in motive markets to replace traditional lead-acid technology or internal combustion engines.
Our global presence is also important to our worldwide customer base. Inventus Power is headquartered in the United States with a global footprint consisting of five manufacturing facilities, two Engineering Technical Centers (US & China), and technical/service & sales support offices across ten countries. We most recently expanded our presence in the EMEA region; we established an office in Germany and are building another manufacturing facility and technical center in Doha, Qatar!
Delta-Q: What industries does Inventus Power cater to?

Phu Tran: Inventus Power has extensive experience across many markets. Due to our robust engineering resources, we've been remarkably successful at designing and manufacturing complex battery pack solutions for "hard-to-do" applications. For that reason, we worked with customers in the medical, military, and commercial/industrial sectors. Over the last few years, we've continued to partner with the largest OEMs in professional cleaning, mobile elevated work platform, lawn & garden care, material handling, low-speed electric vehicle, and robotics. Our PROformance series batteries offer companies solid performance and configurability, particularly around lead-acid replacement solutions and/or completely electrifying their equipment from internal combustion engines.
Delta-Q: Why did Inventus Power join the Charged by Delta-Q program, and what excites you the most about the program?

Phu Tran: Inventus Power has been collaborating with Delta-Q since 2017 and jointly guiding OEMs through the battery electrification process. Together, we've provided OEMs with high-quality, high-performance lithium-ion battery & charging solutions that are optimized for the application and operate harmoniously as a system.
We are excited to be part of the Charged by Delta-Q's battery compatibility program as this will provide tremendous value to our existing OEM customers who are looking for proven charging solutions that are fully compatible with our PROformance batteries. We envision that the program will introduce Inventus Power to OEMs and/or aftermarket channels that are using Delta-Q chargers but are still seeking safe, reliable, and intelligent lithium-ion battery solutions for their applications.
We truly value our partnership with Delta-Q and look forward to working more closely with them through this referral program and future marketing initiatives to increase our brand exposure and ultimately achieve mutual business growth!
Delta-Q: What product(s) are Inventus Power featuring as part of the Charged by Delta-Q Program?
Phu Tran: The Charged By Delta-Q program features two product families from our PROformance Series lineup: U1LiFePRO™ batteries (scalable up to 48V & 5kWh) and PROTRXion™ batteries (scalable up to 48V & 35kWh).
Our PROformance Li-ion batteries are intelligent, rugged, and offer the best performance for commercial markets such as professional cleaning, material handling, mobile elevated work platform, commercial vehicles, and AGV. These batteries are a safe, reliable, high-performing, and maintenance-free alternative to lead-acid batteries and internal combustion engines.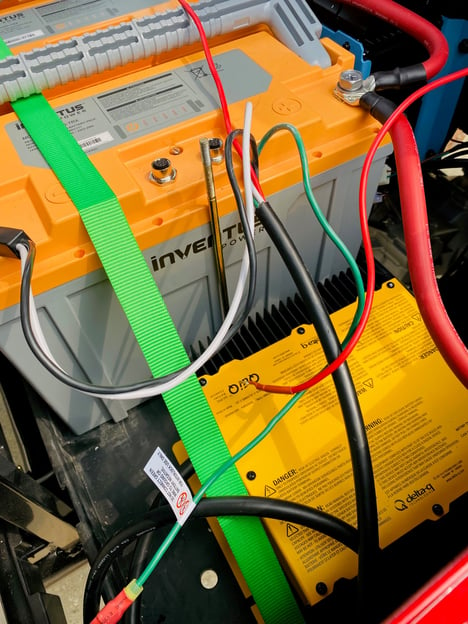 Delta-Q: What are the key benefits that OEMs will get by working with Inventus Power and the Delta-Q program?

Phu Tran: OEMs will benefit from our strong integration support to help maximize the overall performance of their system. Our PROTRXion and U1LiFePRO batteries have both been designed with an advanced battery management system (BMS) and special software algorithms that enable the charger and battery to communicate effectively back to the system.
Inventus Power and Delta-Q also share common values and focus on servicing our customers with our technical expertise. We stand by our products and will continue working with you (even after the sale) to ensure our products meet your performance and productivity expectations.
Delta-Q: What market trends are Inventus Power most excited about, and what is the company doing to help OEMs?

Phu Tran: Inventus Power has been helping customers transition to new battery technologies for over 60 years. For the past 30 years, our focus has been on lithium-ion solutions, given their inherent benefits over lead-acid and other conventional battery technologies. We are excited to see more applications transitioning (or wanting to transition) to lithium-ion solutions and feel we can play a significant role in helping these companies make the switch. To support the design and development of larger, more complex, and higher power applications for our current and prospective OEM customers, we are making substantial capital investments into our engineering resources, manufacturing, and testing capabilities.
Read Delta-Q Technologies' full interview