One of the largest expenses equipment rental companies face is battery maintenance. If the rental equipment is running on traditional, lead-acid batteries, eventually, a service tech will have to be sent to the end-user to replace or maintain the battery. However, with a lithium-ion (Li-ion) battery-powered machine, this costly, time-consuming practice is eliminated. In many cases, Li-ion batteries outlive the lease of the rental equipment it is powering. This creates an advantage for rental fleet companies as they can get a "second life" opportunity for the same equipment.
Recently, Inventus Power exhibited at the American Rental Association's annual convention and tradeshow for the equipment and event rental industry - The ARA Show. This event brings the latest innovations in equipment rental for professionals in the industrial, general tool, and special events industries. In our interview with Bill Scheich, Director of Business Development, we discuss how Li-ion is putting a new lease on rental equipment.
As a newer member of the Inventus Power team, can you tell us a little about yourself?
Bill: As the Director of Business Development, my role is to develop our aftermarket and distribution network. I've been working in distribution for over 20 years and have extensive experience managing national OEM accounts in the battery industry. With Inventus Power being the leader in advanced lithium-ion (Li-ion) battery systems and with the increasing demand for battery-powered applications, I'm excited to help our partners on the journey to electrification.
Why are so many rental companies electrifying their fleets?
Bill: As you may know, many governments, be it international or even state level, are cracking down on gas-powered equipment. There's a global shift for electrification in part of the desire to lessen our carbon footprint. In addition to environmental and sustainability benefits, many companies are also learning that Lithium-ion battery technology can provide additional performance and cost-saving benefits. Li-ion has proven to be a viable power source compared to internal combustion engines or lead-acid batteries because Li-ion offers zero maintenance, long life, low noise, opportunity charging, and more. In the end, Li-ion electrification will increase a company's production and lower its total cost of ownership (TCO).
Why was it important for Inventus Power to exhibit at the American Rental Association's ARA Show?
Bill: We were thrilled to finally exhibit at ARA's annual tradeshow for the equipment and event rental industry. Exhibiting at these industry events allows us to gain market intelligence and meet face-to-face with our customers.
As newer members of the rental equipment industry, we want people to know that we have products ideal for the high-power demands of applications such as low-speed electric vehicles (LSEVs), professional cleaning machines, and material handling equipment. Not only are we able to provide sophisticated power solutions for newer applications, but we can also service applications that run on lead-acid battery systems.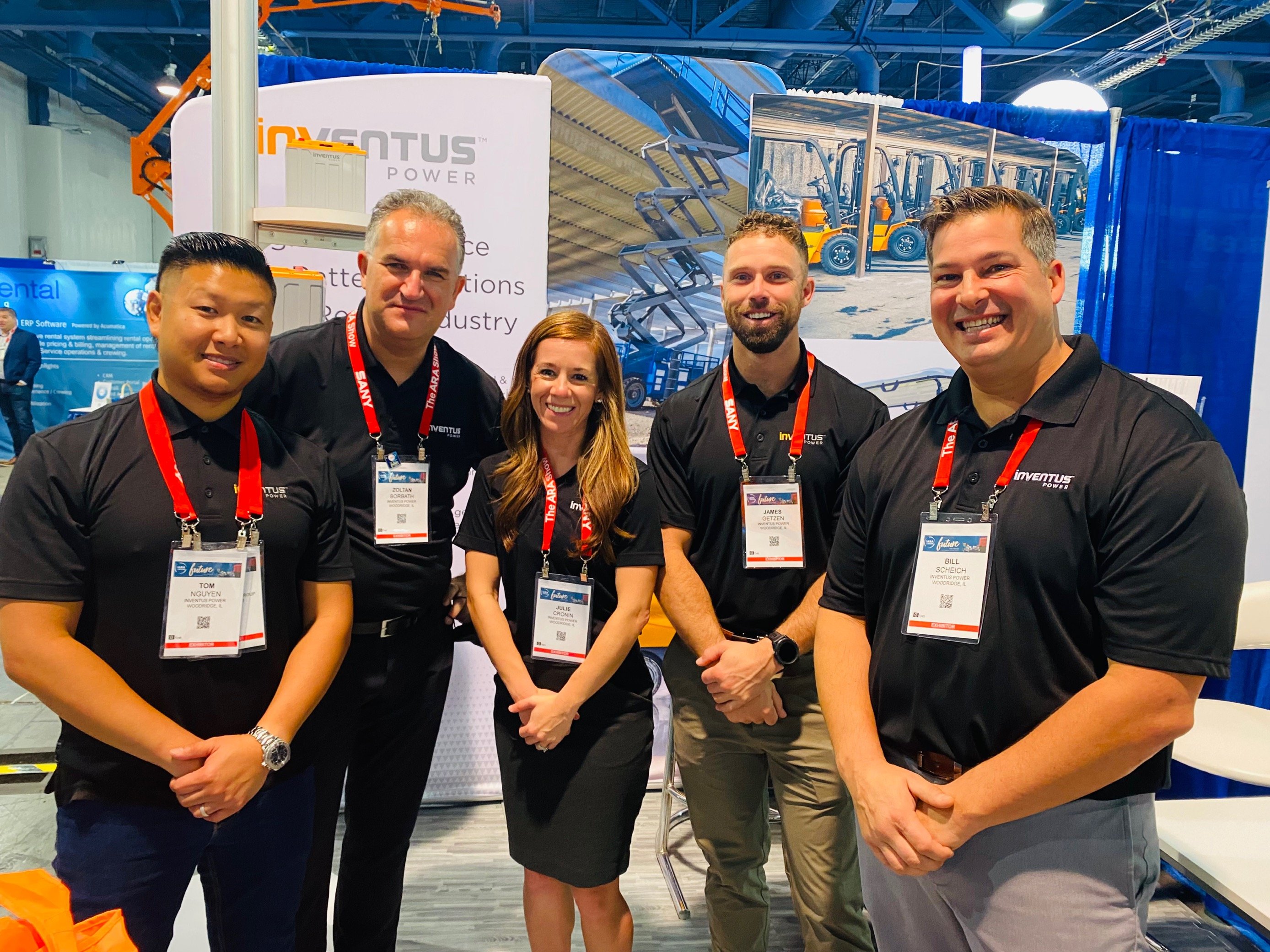 How can Inventus Power help resolve the battery challenges of the rental equipment industry?
Bill: The biggest challenge when switching from a lead-acid battery to a Li-ion battery in the aftermarket space is making sure the solution is compatible with existing equipment. Our PROTRXion™ Li-ion batteries include 24V, 36V, and 48V options that are scalable to fit the needs of applications, from forklifts to floor scrubbers, LSEVs, and more. Within the product portfolio, we offer an intelligent (M-Series) solution that supports smart system integration and requires enhanced communication and functionality. We also offer an S-Series solution where the intelligence is turned off so the battery can act as a true "plug & play", drop-in lead-acid replacement solution where the terminals are always live like a lead-acid battery.
Another compatibility factor we address is regarding the charging solution. We work with the leading charger manufacturing companies to ensure our algorithms are included in their portfolio of solutions. Rather than replacing existing chargers in the field, our batteries can be flashed to be compatible with the charger's algorithm.
Inventus Power is collaborating with OEMs to help them convert their equipment to Li-ion battery power. As a part of our "Electrified by Inventus Power" initiative, this year at ARA we partnered with Columbia Vehicle Group to showcase their new lithium Utilitrucks, electrified by our PROTRXion™ batteries. You can expect to see more partnership announcements like this in the future as we help convert more OEM applications to lithium-ion battery technology.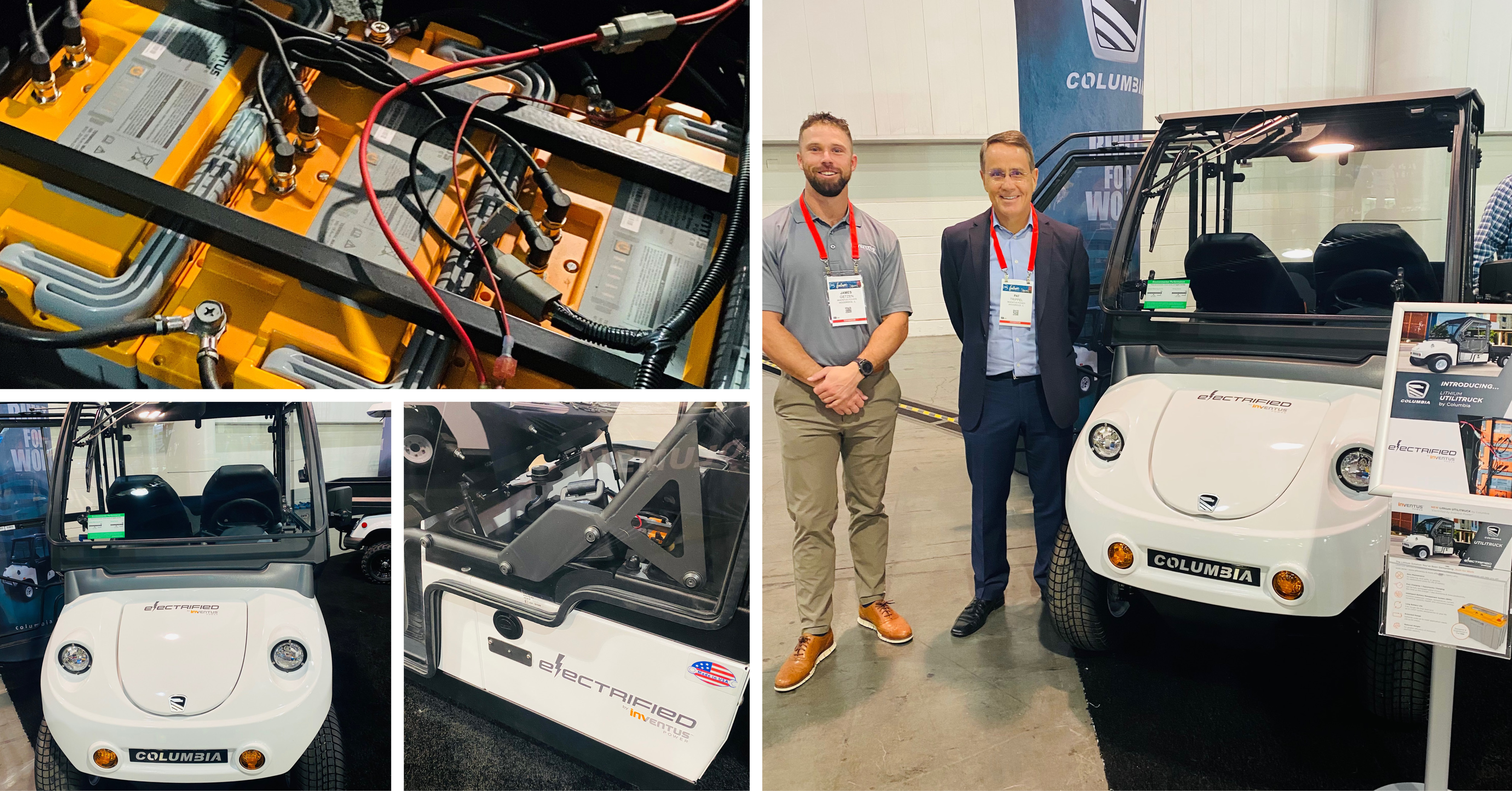 Inventus Power has over 60 years of battery engineering expertise. Our worldwide operations and regional support, patented technology, and cross-market experience fully equip us with the resources necessary to be your electric partner. Want to learn more about our power solutions for rental equipment? Contact us today.