On March 28-31, Inventus Power will be exhibiting at MODEX 2022, the premier tradeshow for manufacturing, distribution, and supply chain industries. With this year's focus being on "MORE," this 4-day event will be filled with cutting-edge technology, enlightening educational sessions, live equipment demos, and so much more.

We're witnessing some considerable upgrades to the material handling industry. Many businesses are converting their machines, such as pallet trucks and forklifts, from lead-acid battery systems to lithium-ion (Li-ion) systems and incorporating more battery-powered, automated guided vehicles (AGVs). Inventus Power is at the forefront of these changes.

Here are event details and information on how you can connect with us at MODEX:

---
On-Floor Seminar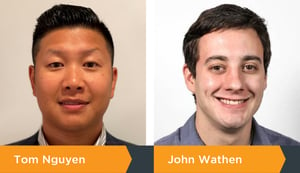 Title: System Integration with Lithium-ion Batteries
Presenter: Tom Nguyen - VP, Business Development
Presenter: John Wathen - Electrical Engineer II
Date: Monday, March 28, 2022
Time: 10:30 am - 11:15 am(EST)
Location: Theater H
Description: This seminar will highlight critical elements for ensuring the successful integration of lithium batteries into material handling equipment and address battery design considerations specific for material handling applications in order to ensure safety, intelligence, and system reliability. Additionally, Fleet Managers and Equipment Operators will better understand how the battery system they are using to power their equipment can impact the performance, productivity, and total cost of their operations.
---
Featured Products
Product: PROTRXion™ Series Li-ion Batteries
Location: Inventus Power Booth: B1827

Description: A new standard in safety, intelligence, and reliability. Inventus Power's PROTRXion™ Li-ion batteries offer a high-performing, fast charging, and maintenance-free solution for motive applications such as low-speed electric vehicles, pallet jacks, forklifts, and other material handling equipment. The PROTRXion™ portfolio includes 24V, 36V & 48V options that are scalable to address different application needs and related duty cycles.
---
Free
Registration
Learn about the latest trends in supply chain and material handling industries for free! The exhibit floor and educational sessions are all available at no cost by registering on our exhibitor page.
Subscribe to our blog to learn about our latest tradeshows and speaking events for the year.