Inventus Power is delighted to be exhibiting at the American Rental Association's annual convention and trade show for the equipment and event rental industry - The ARA Show! This in-person event is ideal for professionals in the industrial, general tool, and special events industries who are seeking the latest innovations in equipment rental. Here are event details and information on how you can connect with us at ARA: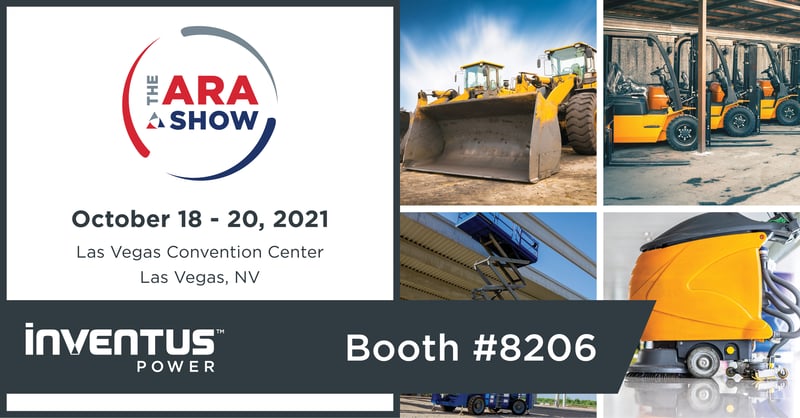 ---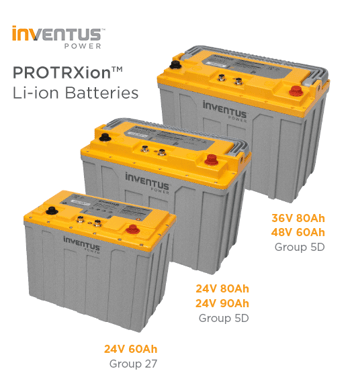 Product: PROTRXion™ Series Li-ion Batteries

A new standard in safety, intelligence & reliability. Inventus Power's PROTRXion™ Li-ion batteries offer a high-performing, fast charging, and maintenance-free solution for motive applications such as low-speed electric vehicles, material handling, aerial work platform, professional cleaning, lawn & garden, robotics, and more. The PROTRXion™ portfolio includes 24V, 36V & 48V options that are scalable to address different market needs and related duty cycles for each end application. Check them out on ARA's Hot List!
---
The Benefits of a Lithium-ion (Li-ion) Powered Fleet
Across a plethora of industries, fleets are being converted over to Li-ion from diesel and internal combustion engines (ICES) or legacy battery technologies. Whether it's professional cleaning machines, material handling equipment, or low-speed electric vehicles (LSEVs), the advantages of lithium electrification are increasing companies' production and lowering their TCO by offering:
Zero Maintenance
No service or battery replacement costs
Fast Charging + Opportunity Charging
Less time on the charger = less downtime & more productivity
Intelligent Battery Management System (BMS)
Monitors battery health & safety. Connects & communicates with smart vehicle systems.
Long Battery Life
Up to 2,000 cycles; 5-6x longer life than lead-acid
Extended Run Times
Batteries are scalable to meet application needs

---
Columbia's NEW Utilitruck "Electrified by Inventus Power"
We recently announced our partnership with Columbia Vehicle Group and the news that Columbia will be launching a new line of lithium Utilitrucks that will be powered by our PROTRXion™ batteries. Columbia will be showcasing its new line of Utilitruck vehicles "Electrified by Inventus Power" at booth# 3401!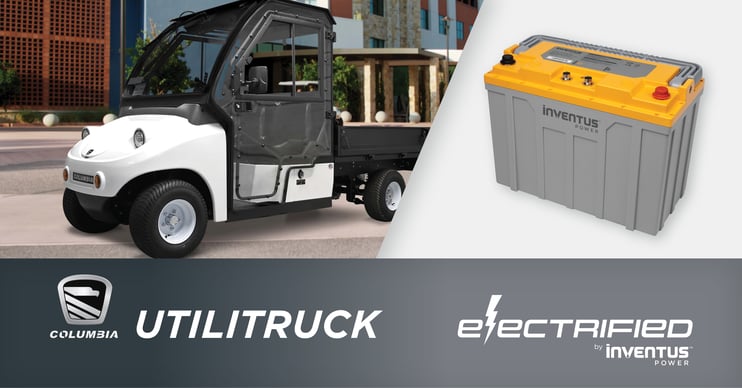 ---
Register for ARA
If you are interested in attending ARA please register here. To schedule a meeting with the Inventus Power Sales Team please email us at info@inventuspower.com.
Click here for our full list of 2021 trade shows and speaking events.